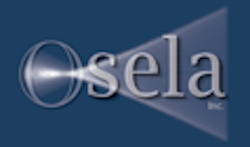 Osela is a specialized manufacturer of industrial laser illumination pattern projectors for 3D structured lighting and active stereo machine vision applications. Osela offers the most extensive off the shelf patterns available on the market, from single laser lines, multiple lines, dotted lines, dot matrix, and random pattern projectors. The in-house designed, manufactured, and fully characterized all glass laser patterns are customizable over multiple laser platforms and large fields of view. Offering wavelengths spanning from near UV to NIR and optical powers from safety class optimized to multiple watts, Osela is your machine vision laser supplier of choice for the most demanding industrial applications. 
Please visit us at www.oselainc.com.

Request More Information
Fill out the form below to request more information about Osela.
---