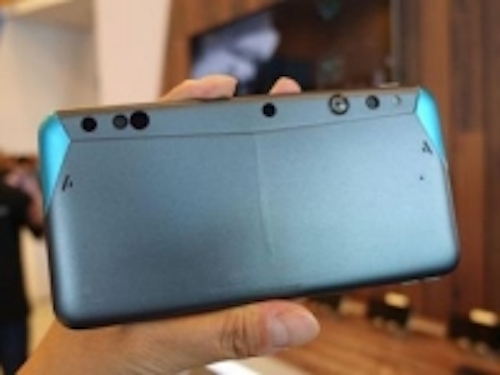 Seen on Stuff:Yesterday at the Intel Developer Forum 2015, CEO Brian Krzanich announced a very promising partnership between Google and Intel. The team-up will see Intel's RealSense 3D camera brought to Google's Project Tango smartphone, which Intel demonstrated at the forum with a blacked-out prototype. The prototype was packing Intel's Atom processor and a 6in touch screen.

Read full article onStuff.
Our take:
At the Intel Developer Forum 2015, Intel CEO Brian Krzanich introduced a prototype of aGoogle Project Tango smartphone integrated with an Intel RealSense 3D camera.
Announced by Google in early 2014, Project Tango involved a partnership with universities, research institutions, and industrial partners to give mobile devices an understanding of space and motion. The project specifically concentrated all of the technology gathered from its various partners into a single mobile phone containing customized hardware and software designed to track the full 3D motion of the device while simultaneously creating a map of the environment. Sensors in the device update its position and orientation and combine the data into a single 3D model of the space around the user.

With the RealSense 3D camera technology, the smartphone will be able to create scans and models of the real world, as well as perform 3D mapping applications. The phone could be used by architects, landscapers, and interior designers to create entire buildings or homes that you can then walk through on a 3D augmented reality tour. Additionally, the smartphone could be used for augmented reality video games.
Intel made it clear during the presentation that the phone is a prototype and that there is still more work that needs to be done to bring RealSense to market. This point in particular is interesting, since some mystery surrounds the RealSense 3D camera and how it actually works. On the known machine vision blogMachine Vision 4 Users, the author notes that he has heard that it could be an infrared light pattern projection system or a Time of Flight system, but nobody seems to be sure.

With the camera making more headlines, it's only a matter of time until we find out how it works, and how people in the industry might use it.
- James Carroll, Senior Web Editor
You might also like: