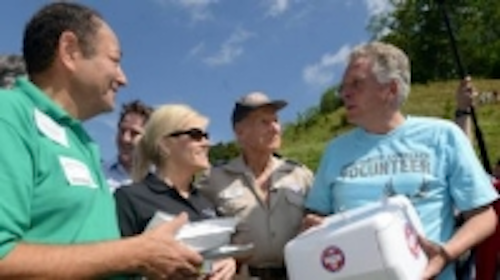 In this month's edition of theunmanned aerial vehicle (UAV) roundup, we touch on a number of topics, including a US Capitol Hill forum in which multiple industry representatives touted the uses of UAVs, a medicine-delivering UAV, an informative AUVSI report on the first 500 Section 333 exemptions for flying UAVs in US airspace, and an FAA milestone.
House Unmanned Systems Caucus Forum
Industry representatives from a variety of markets discussed the numerous uses of unmanned systems at a recent Capitol Hill forum hosted by the House Unmanned Systems Caucus and moderated by AUVSI President and CEO Brian Wynne.
Featured at the event were speakers from the American Farm Bureau Federation, the Motion Picture Association of America, the Associated General Contractors of America, the National Association of Realtors and the AES Corp. (A Virginia-based energy company).
As a result of the increasing number (See more on this below) number of Section 333 exemptions of the FAA, a "more mature UAS commercial market is waiting to be released," according to Wynne.
At this forum, Wynne and his colleagues discussed the benefits and many uses of UAVs worldwide.
Learn more about what happened atthe forum.
First FAA-approved UAV delivery brings medicine to rural Virginia
An FAA-approved hexacopter UAV operated by Australian startup company Flirtey Inc. delivered 24 packages of medicine and other medical supplies to an annual health fair in Wise County, VA, USA, in the middle of Appalachia. (Pictured)
The marked the first FAA-approved delivery of its kind. Days after the successful delivery, researchers behind the mission are already looking toward futures uses of the technology, particularly in humanitarian crises.
"I think this will be remembered as a Kitty Hawk moment," he said of the drone delivery by citing the location of the Wright Brothers' first powered flight. "I'm really happy about how well it went."
The mission, he added, was the first in a series of research flights to improve humanitarian response capabilities.
View more informationhere.
Boeing working with Tat Advanced Systems to produce UAVs
Boeing and Indian-based Tata Advanced Systems (TASL) have signed an agreement to jointly manufacture aerospace and defense products, including UAVS.
Both companies intend to "access markets jointly for products and platforms developed together by Boeing and TASL."
Shelley Lavender, president of Boeing Military Aircraft, who signed the agreement with Sukaran Singh, managing director and chief executive officer of TASL, commented on the collaboration.
"This agreement with TASL is significant because it demonstrates Boeing's commitment to expanding its aerospace manufacturing footprint in India," said Lavender.
S Ramadorai, chairman, TASL, also commented. "This framework agreement is the result of the world-class competencies of TASL as well as the vendor eco-system it has helped establish in India. It gives us an opportunity to explore the massive potential in India for aerospace manufacturing and make the investments required to grow the industry," said Ramadorai.
View more informationhere.
Page 1 |Page 2