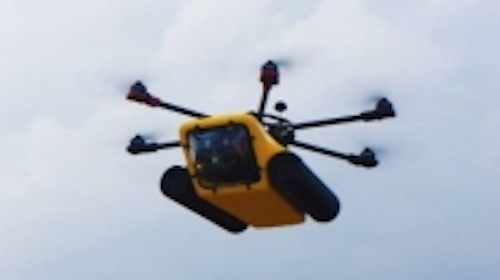 An unmanned aerial vehicle (UAV) called the HexH2o is capable of landing on a body of water and capturing underwater footage.
The UAV, which is developed by Thailand-based QuadH2o, is an improvement upon the initial UAV model, also named QuadH2o. In addition to featuring a waterproof carbon fiber body that floats, the multi-rotor HexH2o features extra props in the event that if one fails, the aircraft can remain flying. In addition, the UAV features an internal fan and exterior-mounted heat sink to prevent overheating.
A three-axis Zenmuse H3-3D gimbal outsourced from DJI enables users to mount a GoPro Hero camera to provide both above and below the surface imaging capabilities. In addition, the domed acrylic viewing port features anti-reflection glare. The HexH2o also utilizes DJI motors and props, along with its GPS-augmented Naza V2 flight control system.
With the ability to image both above and below the surface of water, the UAV may open up new applications. For example, early last year I wrote about a project in which a "marsupial" robotic system comprised of an autonomous surface vehicle and a UAV provided autonomous riverine environmental monitoring. The project paired the ASV with a piggy-backed multi-rotor UAV for the automatic monitoring of riverine environments from an aerial, surface, and underwater view. This coordinated aerial, underwater, and surface level perception was designed for the gathering of robust environmental data. Both of the cooperative robots feature an integrated vision system which enables the robots to "see" and navigate.
Given the abilities of the HexH2o, perhaps the UAV would be able to provide the imaging needs of both the ASV and the UAV, though the flying time of the UAV's battery may limit the amount of data that could be gathered in a day's work. Aside from something like this, what else might the UAV be used for?
Share your vision-related news by contacting James Carroll, Senior Web Editor, Vision Systems Design
To receive news like this in your inbox, click here.
Join our LinkedIn group | Like us on Facebook | Follow us on Twitter | Check us out on Google +