[Page 3] UAV roundup 4/24: The latest in unmanned aerial vehicle news
Apr 24th, 2015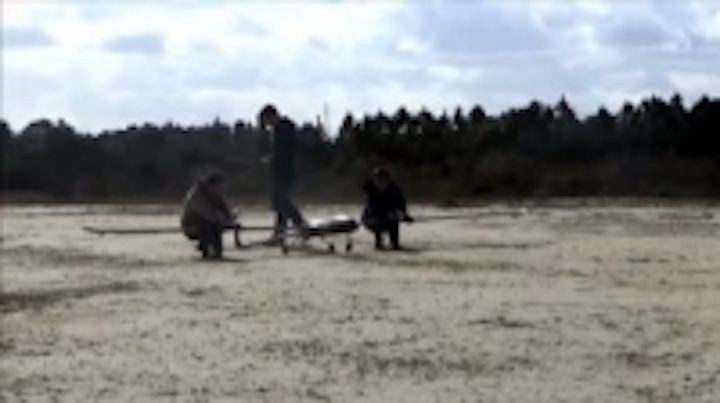 Editor's note: This article is continued frompage two.
Using a live stream of images, the firefighters were able to get the fire—which was in Swansea, South Wales—under control.
"I could see the orange glow of a mountain fire," said Thyer. "It was obviously a big one, and as I had the helicopter and camera equipment I decided to see if I could help. When I got there we approached the fire chief and showed him the kit, and he was happy for me to help."
Internet-providing UAV completes test flight
Quarkson—a company that plans to use SkyOrbiter UAVs to provide internet access to offline areas of the world—has completed its first test flight.
On April 2 at an undisclosed location, the Portuguese company used a solar-powered drone equipped with WiFi transmitting equipment that can provide internet access to local users on the ground via a patch antenna that receives the signal, according toGizmag.
The UAV used in the tests was a smaller version (16 ft. wingspan) of those planned for eventual use. According to the company, a SkyOrbiter LA25 with a wingspan of 72 ft. has already been built, but it could not be tested due to government restrictions. It was flown within line of sight up to an altitude of 330 ft, while successfully relaying a WiFi signal to the ground. Miguel Angelo Martins da Silva, CEO and founder of Quarkson, said the test has provided proof of the concept's viability.
The company hopes to eventually deploy UAVs that will stay up in the air for weeks, months, or even years at a time, and will fly at altitudes of up to 72,000 ft. The UAVs will be equipped with an energy management system, autopilot and ground control software, and long-range communications working on different frequencies. The company says the UAVs will be capable of transmitting via LTE or WiFi on the unlicensed spectrum or via Wi-Fi, LTE, 3G or 2G via a carrier on the licensed spectrum.
Share your vision-related news by contactingJames Carroll, Senior Web Editor, Vision Systems Design
To receive news like this in your inbox,click here.
Join ourLinkedIn group | Like us on Facebook | Follow us on Twitter| Check us out on Google +