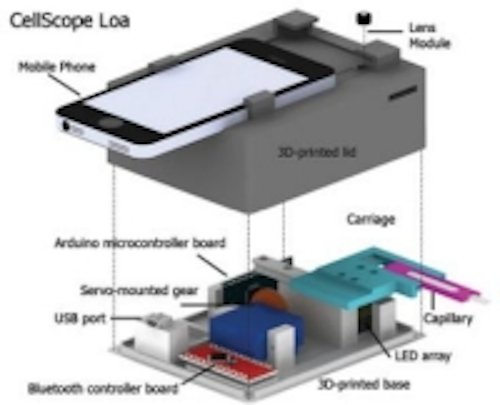 Researchers from the University of California, Berkeley have developed an iPhone-basedmicroscope that uses video and a motion analysis algorithm to automatically detect and quantify infection by parasitic worms in a drop of blood.
Teaming up with Dr. Thomas Nutman from the National Institute of Allergy and Infectious Diseases as well as collaborators from Cameroon and France, the UC Berkeley engineers conducted a pilot study for the device, called the CellScope, in Cameroon, where health officials have been battling the parasitic worm diseases onchocerciasis (river blindness) and lymphatic filariasis.
River blindness, according to UC Berkeley, is transmitted through the bite of blackflies and is the second-leading cause of infectious blindness worldwide. Lymphatic filariasis, spread by mosquitoes, leads to elephantiasis, a condition marked by painful, disfiguring swelling. It is the second-leading cause of disability worldwide and, like river blindness, is highly endemic in certain regions in Africa.
An antiparasitic drug called ivermectin, or IVM, can be used to treat these diseases, but mass public health campaigns to administer the medication have been stalled because of potentially fatal side effects for patients co-infected withLoa loa, which causes loiasis, or African eye worm. When there are high levels of microscopic Loa loa worms in a patient, treatment with IVM can potentially lead to severe or fatal brain or other neurologic damage. Side effects of Loa loa and the difficulty of rapidly quantifying Loa levels in patients before treatment make it too risky to broadly administer IVM, representing a major setback in the efforts to eradicate river blindness and elephantiasis.
As a result, the team is testing its latest generation of the smartphone microscope, called CellScope Loa. The device pairs an iPhone with a3D-printed plastic base where a sample of blood is positioned. As noted in the image, the base includes an LED array, an Arduino microcontroller board, gears, circuitry, and a USB port.
Page 1 |Page 2