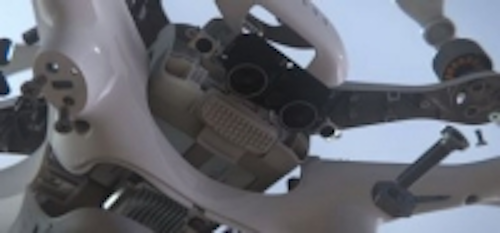 A collaboration between global drone manufacturer DJI and computer vision company Movidius has resulted in the new Phantom 4 drone's ability to sense and avoid objects as it flies.
DJI's recently launched Phantom 4 features 4K cameras and on-board vision processing via the Movidius Myriad 2 vision processor. The agreement marks an industry first in making advanced visual guidance systems a standard feature for consumer drones. Such systems, suggests Movidius, are expected to enable a broad range of new industrial and recreational applications that were not possible before.
Cameras on the Phantom 4 drones capture video at 30 fps and full HD 1080p at 120 fps to provide vision for the aircraft. Algorithms developed by DJI enable forward obstacle sensing, allowing the drone to stop and hover if it sees an obstacle coming close. In TapFly, ActiveTrack, and Smart Return Home modes, it will avoid an obstacle or hover to avoid collision. These algorithms from DJI, along with the Myriad 2 VPU, enable the drone to make such movements while flying.
"DJI continuously works to make complex technology accessible for anyone with a creative vision. As a result, we constantly seek ways to expand our technological capabilities to push the industry beyond what is thought possible," said Paul Pan, Senior Product Manager at DJI. "Movidius' vision processor platform, Myriad 2, met the rigorous requirements we set for our flagship product, and we look forward to continued collaboration with Movidius as we push the boundaries in the drone market."
DJI designed the Phantom 4 vision algorithms for real-time aerial autonomy, and the Myriad 2 VPU --MA1200 matched these algorithms, in terms of performance-to-power ratio.
"DJI has set the direction for the future of the drone market and we are excited to incorporate Movidius' low power artificial vision intelligence technology into DJI drones moving forward," said Sean Mitchell, COO of Movidius. "Moving the technology from a demonstration to a highly reliable production worthy stage was a tremendous effort for both DJI and Movidius. The DJI Phantom 4 launch represents a milestone for the future of visually aware devices. We believe we are entering the golden age of embedded computer vision and our technology has placed Movidius at the forefront of this trend."
View the Movidius press release.
Share new products that you think are particularly interesting or helpful by contacting James Carroll, Senior Web Editor, Vision Systems Design.
Share your comments, tips, or questions in our comments section below.
Join our LinkedIn group | Like us on Facebook | Follow us on Twitter