Ford targeting launch of fully autonomous vehicle by 2021
With an eye toward launching a fully autonomous vehicle for ride sharing by 2021, Ford Motor Company has made a number of key investments in tech companies and has doubled its team in Silicon Valley.
Sep 7th, 2016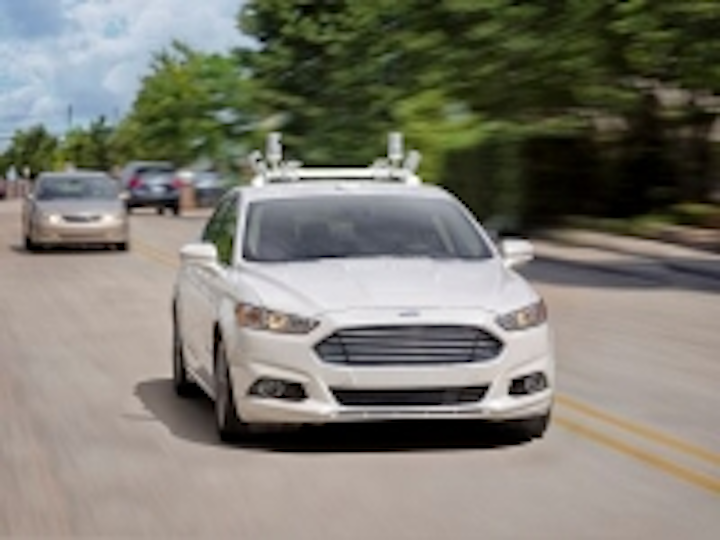 With an eye toward launching a fullyautonomous vehicle for ride sharingby 2021, Ford Motor Company has made a number of key investments in tech companies and has doubled its team in Silicon Valley.
The company's intent is to have a high-volume, fully autonomous Society of Automotive Engineers level 4-capable vehicle in commercial operation in 2021 in a ride-hailing or ride-sharing service. In order to achieve its goals, Ford has made a number of key, significant investments in tech companies that will expand its capabilities in advanced algorithms, 3D mapping, LIDAR, and radar and cameras sensors. These investments include:
Velodyne: As previously covered on our site, Ford has invested in Velodyne, the leader in LIDAR sensors, with an eye on quickly mass producing a more affordable automotive LIDAR sensor.
SAIPS:Ford has acquired the Israel-based computer vision and machine learning company to further strengthen its artificial intelligence and computer vision capabilities. SAIPS develops algorithms for image and video processing, deep learning, signal processing, and classification, which Ford hopes will help its autonomous vehicles to learn and adapt to the surroundings of their environment.
Nirenberg Neuroscience LLC:Ford announced an exclusive licensing agreement with Nirenberg Neuroscience, a machine vision company founded by neuroscientist Dr. Sheila Nirenberg, who cracked the neural code the eye uses to transmit visual information to the brain. Nirenberg Neuroscience has a machine vision platform for performing navigation, object recognition, facial recognition and other functions.
Civil Maps:Ford has invested in Civil Maps, a company that has developed a scalable 3D mapping technique, which provides Ford with another way to develop high-resolution 3D maps of autonomous vehicle environments.
In addition to these investments, Ford has added two new buildings and 150,000 square feet of work and lab space adjacent to its current Research and Innovation Center in Silicon Valley, creating a dedicated, expanded campus in Palo Alto. In addition, the company plans to double the size of the Palo Alto team by the end of 2017. The campus is set to open in mid-2017.
"The next decade will be defined by automation of the automobile, and we see autonomous vehicles as having as significant an impact on society as Ford's moving assembly line did 100 years ago," said Mark Fields, Ford president and CEO. "We're dedicated to putting on the road an autonomous vehicle that can improve safety and solve social and environmental challenges for millions of people – not just those who can afford luxury vehicles."
Autonomous vehicles in 2021 are part of Ford Smart Mobility, the company's plan to be a leader in autonomous vehicles, as well as in connectivity, mobility, the customer experience, and data and analytics, according to a Ford press release. In 2016, Ford will triple its autonomous vehicle test fleet to be the largest test fleet of any automaker, bringing the number to about 30 self-driving Fusion Hybrid sedans on the roads in California, Arizona and Michigan, with plans to triple it again next year.
When it comes to the race to get fully autonomous vehicles on the road, the field is certainly becoming increasingly interesting with strategic moves such as this one, but they are certainly not alone in their pursuit, as many other companies, including Google, Uber, BMW, Intel, Nissan, NASA, are all working toward the same goal. With so much focus being put on the technology, it seems that before long, the roads could be filled with driverless cars sooner than some thought.
View theFord press release.
Share your vision-related news by contactingJames Carroll, Senior Web Editor, Vision Systems Design

To receive news like this in your inbox, click here.
Join ourLinkedIn group | Like us on Facebook | Follow us on Twitter
Learn more: search the Vision Systems Design Buyer's Guide for companies, new products, press releases, and videos