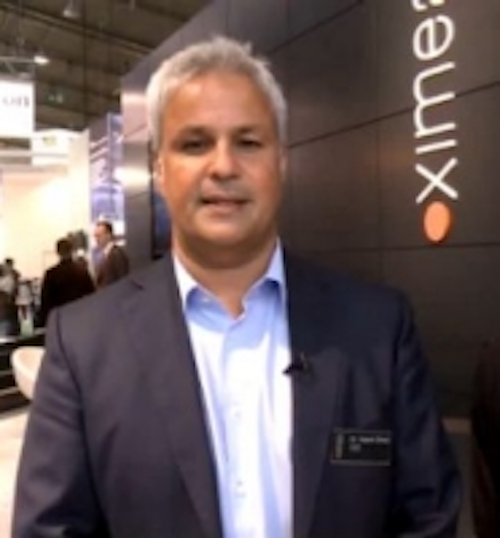 Throughout my three days spent atThe Vision Show 2016, I met with a number of senior-level employees from leaders in the machine vision and imaging industries. One of these conversations was with Vasant Desai, CEO (Germany) of XIMEA, during which time we discussed numerous hot topics and future prospects related to vision.
XIMEA, I learned right away, has been quite busy when it comes to product development. The company, explained, Desai, has been hard at work with new designs for accommodating Type C connectors for USB 3.1, as well as Thunderbolt, among others.
"We also have prototypes for the (Sony) IMX 3, 6, 9, and 12 MPixel sensors," he said. "Additionally, we have a new line scan hyperspectral camera coming out that features 150 bands in the VIS and IR bands, which we have high hopes for."
In terms of keeping up with trends, Desai told me he sees many opportunities popping up, and that his company seeks to take advantage of these.
"One camera, one wavelength is not enough," he said. "Multi-camera environments will be on the rise."
He added, "Need 4 (cameras)? Need 8? Whatever, XIMEA is addressing these needs providing extremely compact aggregation solutions streaming data coming from multiple cameras of various resolutions simultaneously through one optical cable
In addition XIMEA has now identified accessories in this environment that have the capability to enhance the performance of a customer's solution considerably by being adapted to the customer's needs. These products are designed in such a manner that they can rapidly modified. These "adaptable" products will be introduced at VISION in Stuttgart under the label "xiTec."
In addition to multi-camera systems, Desai identified a number of possible growth areas moving forward, which include products with embedded processing capabilities, of course also multi camera capable, light enough for handheld devices, UAVs, and other applications with strong constraints on weight, size and power consumption and easy to program.
Products such as the multi-camera aggregator are brought to market as a result of initial customer need. XIMEA, said Desai, enjoys the challenge of taking on a project, and getting ahead of market. He cited the recent example of developing Thunderbolt cameras, which provide a number of advantages, and as a result, he sees a high demand for these in the future.
"xiLab enables us to communicate with our customers and do depth sounding and xiTec assits us in offering custom solutions, after all 50% of our revenues include customization," he said.
Toward the end of our conversation, I mentioned that as part of our 20th anniversary, we are asking a number of people to provide their take on some things they expect to happen within thenext20 years, in an attempt to identify potential common answers and opinions. Here is where our conversation took a turn for the philosophical. 
"Look back 20 years and think about where we were," he said. "Think about what you were doing at age 10. Where you being taught everything you need to know for today's world? Could you foresee today?"
Furthermore, he noted, you can't restrict yourself to just looking at vision.
"What about technologies like wireless communications, deep learning, 3D, VR, computers with more brain power than humans at prices lower than $1,000?" he asked, noting that technology on the whole will be drastically different.
Areas of potential advancement that Desai went on to identify include self-learning software (and self-learning software for big data), DARPA research for such things as moving artificial limbs, biometrics, 3D, holographic technologies, autonomous vehicles, and more.
"Humans and machines will be much more collaborative, and in an unbelievable manner," he concluded.
View more information onXIMEA.
Share your vision-related news by contactingJames Carroll, Senior Web Editor, Vision Systems Design

To receive news like this in your inbox, click here.
Join ourLinkedIn group | Like us on Facebook | Follow us on Twitter