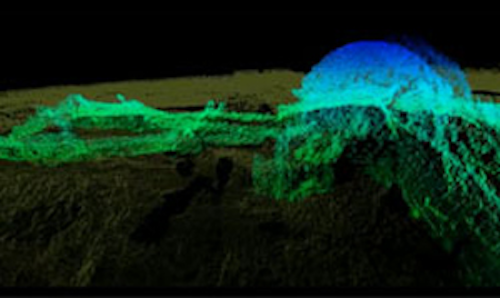 A new 3-D sonar map released this month shows never-before seen details of the USS Hatteras, the only Union warship sunk in combat in the Gulf of Mexico during the Civil War.

The sonar map was produced as the result of a partnership between ExploreOcean (Seattle, WA, USA), maritime archaeologist Dr. James Delgado and a team from the National Oceanic and Atmospheric Administration (NOAA; Washington, DC, USA) as well as the Bureau of Ocean Energy Management, Bureau of Safety and Environmental Enforcement, Texas A&M Galveston and the Texas Historical Commission.

The Hatteras -- an iron-hulled steamship the US Navy converted into a gunboat -- was in a battle with the Confederate commerce raider CSS Alabama 150 years ago off the coast of Galveston, Texas. Today, the wreck of the Hatteras is largely intact, resting 57 feet underwater in sand and silt.

In September 2012, Dr. Delgado and his team went on a two-day expedition in the Gulf of Mexico with the express aim of creating the 3-D sonar map of the wreck site.

"Most shipwreck survey maps are two-dimensional and based on observations made by sight, photographs or by feeling around in murky water while stretching a measuring tape," said Delgado, who is the director of maritime heritage for NOAA's Office of National Marine Sanctuaries.

"Thanks to the high-resolution sonar, we have created a 3-D map that enables researchers and the public to virtually swim through the wreck's exposed remains and even look below the surface at structure buried in loose silt," he adds.

Delgado said the survey revealed previously unknown details like the survival of most of one paddlewheel, as well as the fact that the ship's stern and rudder are emerging from the sand. The 3-D map also plots damage to engine room machinery and the ship's paddlewheel shaft, which seems to have bent when the ship capsized and sank after being shot full of holes.

Editor's note: A 3-D sonar fly through the wreck can be found on YouTube here.

Related stories from Vision Systems Design that you might also find of interest.
1. Underwater Greek city mapped in 3-D

A team from the University of Sydney's (Sydney, Australia) Faculty of Engineering and Information Technologies have won top honors in Canon Australia's Extreme Imaging competition for their efforts in mapping and digitally reconstructing an ancient underwater city in Greece.

2. Underwater sled helps fishermen image the sea

An underwater video camera system has been trialed by Seafish (Edinburgh, UK) to determine whether fishermen can monitor environmental conditions in marine protected areas (MPAs).

3. 3-D sonar imaging system helps lay undersea cable

Engineers at Deep BV Hydrography and Geophysics (Amsterdam, The Netherlands) have deployed a 3-D phased array sonar system from CodaOctopus (Edinburgh, UK) to assist with the installation of a power cable at Thornton Bank, an offshore wind farm 28 km off the Belgian coast in water ranging from 12 to 27 meters deep.

-- Dave Wilson, Senior Editor, Vision Systems Design