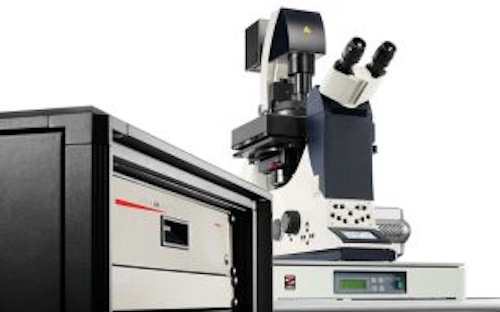 The Leica SR GSD 3D is a widefield microscope system that offers 2D and 3D super-resolution imaging of molecules and cellular structures. It is capable of obtaining resolutions down to 20 nm in the lateral and 50 nm in the axial direction and is equipped with a 160x objective specifically developed for super-resolution microscopy. The SR GSD 3D features a design that is optimized for high-power laser emissions and its low autofluorescence ensures a high signal-to-noise ratio, which is ideal for single molecule detection applications. In addition, the system is suited for use in a variety of applications, including fields of live cell or advance fluorescence microscopy.
To Learn More:
Contact:Leica Microsystems
Headquarters: Wetzlar, Germany
Product: SR GSD 3D microscope system.
Key Features: 2D and 3D super-resolution, resolutions of 20 nm in the lateral and 50 nm in the axial direction, 160x objective.
What Leica Microsystems says:
View more information on the Leica SR GSD 3D.
View More Products| Locate a vendor or system integrator | Receive e-mail updates
Share new products that you think are particularly interesting or helpful by contacting James Carroll, Senior Web Editor, Vision Systems Design.
Join our LinkedIn group | Like us on Facebook | Follow us on Twitter