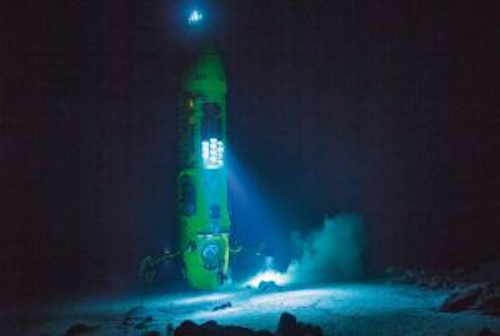 On March 26, 2012, James Cameron successfully piloted the DeepSea Challenger submersible to the Mariana Trench's lowest point, the Challenger Deep, which lies 6.83 miles (10.99 kilometers) below the ocean surface. A 3D documentary of the mission—which was dedicated to the advancement of the world's understanding of the ocean's biological and geological phenomena—will be released this fall.
In order to film the movie, however, the DeepSea Challenger required an underwater camera system that enabled 3D image capture. For the project, Cameron and his team used a number of different cameras. First, a Red Epic camera was mounted directly in front of the small viewport in the pilot sphere's hatch. This camera captured IMAX-quality, 5K-raw images.
Inside of the sphere, two tiny HD cameras that were used to create 3D video also filmed the pilot himself, according to the DeepSea Challenger website. These cameras filmed the dive log, and helped to understand the context of the footage that the other cameras concurrently gather.
On the outside of the submersible, two mini HD cameras built specifically for the project from the sensor level up also capture 3D video. These cameras are housed in titanium and are smaller than a soda can. Two more cameras are side by side on the wrist of the sub's manipulator arm, one of which is a wide-angle lens camera and the other a macro lens camera for imaging small animals up close.
For the two HD external cameras that are being used to capture 3D, as well as the two external 2D mini-cams, M3-F focus modules from New Scale Technologies were chosen in order to achieve remote focus control with the lens, a high-resolution M12 lens, the team had chosen.
Page 1 | Page 2