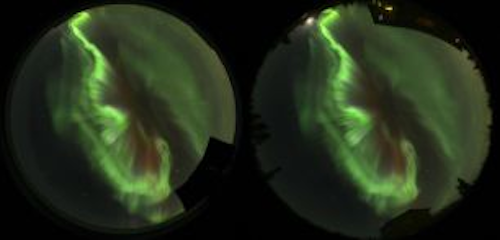 After Japanese scientist Ryuko Kataoka of the National Institute of Polar Research had used digital single-lens reflex (SLR) cameras to create a 3D movie on the aurora borealis for a planetarium, he decided that the same technology may enable him to measure the height of the Northern Lights.
"We had initial success when we projected the digital SLR images at a planetarium and showed that the aurora could be seen in 3D. It was very beautiful, and I became confident that it should be possible to calculate the emission altitude using these images," said Kataoka in a press release.
Kataoka, along with a team of researchers, used two Nikon SLR cameras separated by 8 km across the Chatanika area in Alaska to mimic the left and right eyes. The cameras were equipped with fish eye lenses and GPS units, and were used to capture two simultaneous all-sky images that the researchers combined to create a 3D photograph of the aurora and measure the emission altitude.
"Using the parallax of the left-eye and the right-eye images, we can calculate the distance to the aurora using a [triangulation] method that is similar to the way the human brain comprehends the distance to an object," explains Kataoka.
Scientists have created altitude maps of the aurora before, but this marks the first time that the emission height has been measured using images captured with digital SLR camera. In an Annales Geophysicaeresearch paper, the author says that the maps obtained with the SLR cameras are consistent with previous observations, and that this may hopefully lead to new scientific findings.
View the press release.
View the research paper.
Also check out:
Japanese rocket to use extreme UV spectroscopy to determine why some planets lose gases
e2v to develop imaging sub-system for World Space Observatory - Ultraviolet telescope
NASA releases image of Saturn's view of Earth
Share your vision-related news by contacting James Carroll, Senior Web Editor, Vision Systems Design
To receive news like this in your inbox, click here.
Join our LinkedIn group | Like us on Facebook | Follow us on Twitter