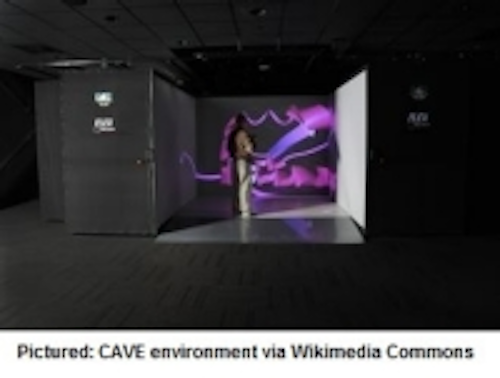 In Villanova University's Cave Automatic Virtual Environment (CAVE), a room housed in an academic library will become an immersive virtual reality facility which enables real-time 3D visualization of anywhere a camera go.
The project is being developed under a $1.67 million grant from the National Science Foundation. While CAVE technology has been implemented in a number of applications, the reason Villanova received the grant is the integration of a six-lens robotic camera, according to Philly.com.
With the video that the camera can capture, Villanova computer scientist Frank Klassner and his colleagues believe they can extend virtual reality's value for both research and academic purposes by enabling the CAVE to "transport students anywhere a camera can go." The camera used for the Villanova CAVE project is a Ladybug 3 360° video camera from Point Grey. Ladybug3 cameras feature six 1/1.8" Sony ICX274 CCD image sensors with 4.4 µm x 4.4 µm pixel size. The 2 MPixel cameras achieve a frame rate of 15 fps at full 1,600 x 1,200 resolution, and also feature FireWire interface, global shutter, and 8-bit Raw Bayer digital data video output.
Klasser has already used the Ladybug to take videos at such historic sites as the battlefield at Gettysburg and Independence Hall, as he foresees the CAVE project as a highly education tool in which students could visualize the "real thing" in real time.
"Imagine you're teaching a class on Shakespeare, and you could take your whole class to the Globe Theatre," he said in the Philly.com article.
Villanova's CAVE, which is being designed by Mechdyne Corporation, will feature an 18' by 10' by 7.5' high enclosure in which 10-15 people can view the 3D imagery and data displays. It will feature a unique development research focus on using immersive video spanning 360° horizontally and 120° vertically to present interactive real-world environments, with the goal of presenting these environments in real time via the web, according to Villanova.
View more information on the CAVE project.
Also check out:
(Slideshow) 10 different ways 3D imaging techniques are being used
(Slideshow) The 12 months of vision: A holiday review of the year in machine vision
(Slideshow) 10 innovative current and future robotic applications
Share your vision-related news by contacting James Carroll, Senior Web Editor, Vision Systems Design
To receive news like this in your inbox, click here.
Join our LinkedIn group | Like us on Facebook | Follow us on Twitter | Check us out on Google +