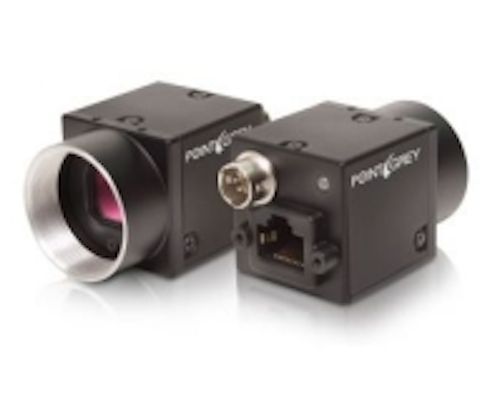 The following is a discussion continued from page one with Michael Gibbons, Director of Sales and Marketing at Point Grey.
Name: Michael Gibbons
Company: Point Grey
Title: Director of Sales and Marketing
Is there a particular trend or product in the next few years that you see as "the next big thing?"
Advances in consumer technology often pave the way for developments in machine vision technology. SuperSpeed USB 3.0 is a perfect example of this phenomenon and we are certain that the newest version of that standard, USB 3.1, will not be any different. USB 3.1 promises data transfers of 10 Gbps, which is more than double the effective bandwidth of the current USB 3.0 standard.

New CCD and CMOS sensor technologies have also evolved in the last few years and have dramatically influenced the development of completely new types of imaging and machine vision systems. The number of global shutter CMOS sensors available in the market has increased and CCD technology, such as Sony's new line of EXview HAD CCD II sensors, has also become more advanced, providing improved quantum efficiency, reduced smear, and increased sensitivity, including into the near infrared.
How will imaging systems have to change to meet emerging applications?
I think we will start to see more imaging and vision applications emerge that cannot use traditional smart camera or PC-based solutions. These types of applications require "processing on the edge," where images are sent by the camera to a separate computing system in close proximity to the camera where they are processed, and the results are either stored or sent to a location farther away.
The introduction of small, low-cost embedded computers such as the BeagleBoard, Raspberry Pi, and Odroid, has provided designers with new options to address the ever-increasing range of requirements. These single-board systems typically support Linux, which allows Point Grey users, for example, to easily run imaging applications based on Point Grey's FlyCapture API, just as they would on a Windows PC-based system.
Do you have any new exciting products or developments on the horizon?
Always! As mentioned earlier, over the next few months, the Blackfly and the Grasshopper3 camera lines will be extended to support both USB3 Vision and GigE Vision offering customers the choice between these two interfaces. The Grasshopper3 GigE Vision line made its debut at The Vision Show in April and the first USB3 Vision Blackfly models will be released very soon. There are a few more exciting releases this year but we can't disclose those yet. Stay tuned!
Is there anything vision-related that you've seen recently, in any particular market, that you thought was particularly cool?
We are seeing an increased demand for mobile applications and robotic systems such as autonomous surface vehicle (ASV) or unmanned aerial vehicles (UAV). UAV applications are now a vital component of surveillance, homeland/border security and airborne intelligence operations, as well as applications in the commercial/civil markets. These types of applications use a number of our cameras, ranging from robotic systems to enable environmental monitoring of rivers to multi-baseline stereo systems used in autonomous vehicles operating in agricultural environments.
Also check out:
(Slideshow) Six unique ways 3D imaging helped solve problems
(Slideshow) Five unique examples of industrial machine vision inspection
Live from the AIA Vision show: An outlook on collaborative robots

Share your vision-related news by contacting James Carroll, Senior Web Editor, Vision Systems Design
To receive news like this in your inbox, click here.
Join our LinkedIn group | Like us on Facebook | Follow us on Twitter | Check us out on Google +
Page 1 | Page 2