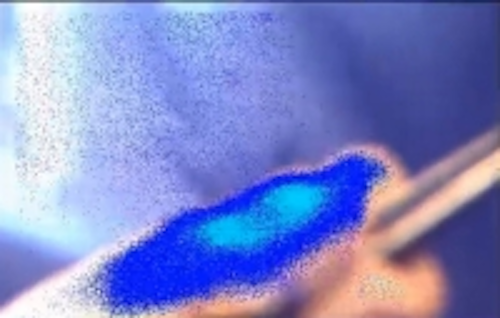 Image acquisition, processing, and projection were controlled using MATLAB and the camera's acquisition speed was set to 30 Hz using Point Grey's FlyCapture 2.4 software. Monochrome images were passed from MATLAB to a 20 lumen, 608 x 684 pixel pico projector kit (DLP Lightcraft, Texas Instruments), using MATLAB Instrument Control Toolbox. Acquired fluorescence images were then aligned with the projector field of view and projected as a monochrome green image onto the operating field.
Indocyanine green, a common contrast agent, was injected into the tumor, causing the cancers cells to glow blue when viewed with the glasses. The research paper noted that tumors as small as 1 mm in diameter could be detected using the glasses. Ryan Fields, MD, a Washington University assistant professor of surgery and Siteman surgeon, said in the press release that he plans to use the glasses in a surgical procedure scheduled for the end of February in which he will remove a melanoma from a patient.
"A limitation of surgery is that it's not always clear to the naked eye the distinction between normal tissue and cancerous tissue," Fields said. "With the glasses developed by Dr. Achilefu, we can better identify the tissue that must be removed."
View the research paper.
View the press release.
Also check out:
Scientists capture first 3D movie of living sperm
Chemical imaging technique could improve diseased tissue analysis
Optical sensor tracks zinc in cells for cancer research
Share your vision-related news by contactingJames Carroll,Senior Web Editor, Vision Systems Design
To receive news like this in your inbox, click here.
Join our LinkedIn group | Like us on Facebook | Follow us on Twitter | Check us out on Google +
Page 1 | Page 2