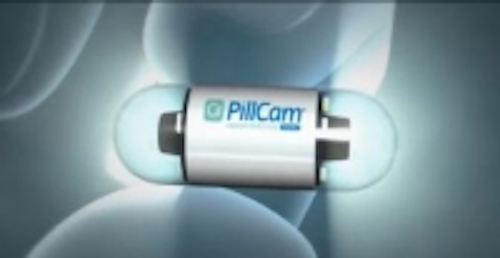 PillCam COLON 2—a miniature camera that patients swallow intended to provide additional evaluation of the colon following an incomplete colonoscopy—has received clearance from the U.S. Food and Drug Administration (FDA) as a new method to provide visualization of the colon.
Incomplete colonoscopies, which occur in approximately 750,000 patients in the United States per year, are the result of physicians needing additional pathology following the initial colonoscopy. Patients with incomplete colonoscopies often incur additional costs, as well as inconvenience and risk of other procedures to complete the examination. PillCam COLON 2 was cleared by the FDA based on an analysis of a clinical trial conducted on hyperplastic polyps and adenomas, which produced a positive percent agreement for PillCam COLON 2 and optical colonoscopy of 69% and a negative percent agreement of 81% for polyps at least 6 mm in size, according to the press release.
With Given Imaging's PillCam COLON 2, patients will have a less invasive and effective colon imaging option, suggests Douglas Rex, M.D., Distinguished Professor of Medicine and Chancellor's Professor, Indiana University School of Medicine and Director of Endoscopy, Indiana University Hospital.
"PillCam COLON will improve patient care by offering a new and effective colon imaging option for patients who have experienced an incomplete colonoscopy. Among the limited alternatives available after incomplete colonoscopy, PillCam COLON gives us a minimally invasive, radiation-free option that provides endoscopic images of the same basic type that have made colonoscopy so useful," he said in the press release.
The PillCam itself is a 31.5 mm pill camera with an 11.6 diameter that transmits video at up to 35 fps to a recording device worn by the patient. Data captured from the pill is transferred from the device to a computer which uses RAPID software to compile video data and enables the physician to review and report the results. The pill captures color video from both ends and is equipped with four white LEDs for illumination. In addition, the biocompatible plastic PillCam features a 172° field of view, an effective visibility distance of 0-3 cm, and can operate for up to 10 hours.
PillCam COLON, which is developed in Israel, is commercially available in more than 80 markets, including Japan, Europe, Latin America, Canada, Australia, and parts of Asia and Africa.
View the press release.
Also check out:
Chemical imaging technique could improve diseased tissue analysis
Imaging software tracks tumor rotation during radiotherapy
Fraunhofer imaging technique enables faster testing of drug ingredients

Share your vision-related news by contactingJames Carroll, Senior Web Editor, Vision Systems Design
To receive news like this in your inbox, click here.
Join our LinkedIn group | Like us on Facebook | Follow us on Twitter | Check us out on Google +