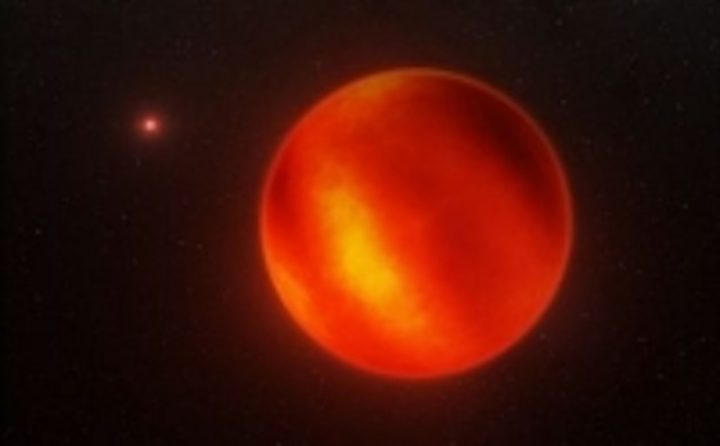 The European Southern Observatory's (ESO) Very Large Telescope (VLT) was used to create the first ever weather map of the surface of Luhman 16B—the closest brown dwarf to Earth.
Brown dwarfs fill the gap between giant gas planets like Jupiter, and faint stars, according to the ESO press release. These brown dwarfs do not contain enough mass to initiate nuclear fusion in their cores, and only glow slightly in infrared waves of light. Luhman 16B, also known as WISE J104915.57-531906.1B is a recently discovered brown dwarf that was discovered as a pair along with Luhman 16A, both of which are six light years away from the sun.
VLT's cryogenic infrared echelle spectrograph (CRIRES) instrument was used to image the dwarfs, as well as map out dark and light features on Luhman 16B. CRIRES provides a resolving power of up to 100,000 between 0.95 μm and 5.38 μm. The instrument, according to the ESO, can be divided into four units:
Fore-optics, which provide field rotation, cold pupil and field stops, adaptive optics, and slit viewing
Prism pre-disperser, which isolates one echelle order and minimizes the total amount of liht entering into the high-resolution section
High-resolution section: Collimator, echelle, slitviewer camera, and detectors
Calibration unit outside the cryogenic environment which contains light sources for the flux/wavelength calibration and detector flat-fielding
CRIRES' detector system uses five Raytheon 1,024 x 1,024 pixel InSb Aladdin arrays—one for the slitviewer camera and four in the spectrograph focal plane. Below are the main characteristics of the CRIRES instrument:
CRIRES captured images of Luhman 16B but also observed changing brightness and dark and light features that moved away or toward the observer, and by combining all of this information, the team was able to create a map of the dark and light patches of the surface. This information, according to Ian Crossfield of the Max Planck Institute for Astronomy, the lead author of a research paper on the project, opens up new doors for future research.
"Previous observations suggested that brown dwarfs might have mottled surfaces, but now we can actually map them," he said in the press release. "Soon, we will be able to watch cloud patterns form, evolve, and dissipate on this brown dwarf — eventually; exometeorologists may be able to predict whether a visitor to Luhman 16B could expect clear or cloudy skies."
View the ESO press release.
View more information onCRIRES.
Also check out:
Mars Rover Opportunity celebrates 10-year anniversary by capturing image of itself
Keck I telescope captures image of rare brown dwarf
Spectrograph finds three new planets in Messier 67 star cluster
Share your vision-related news by contactingJames Carroll, Senior Web Editor, Vision Systems Design
To receive news like this in your inbox, click here.
Join our LinkedIn group | Like us on Facebook | Follow us on Twitter | Check us out on Google +