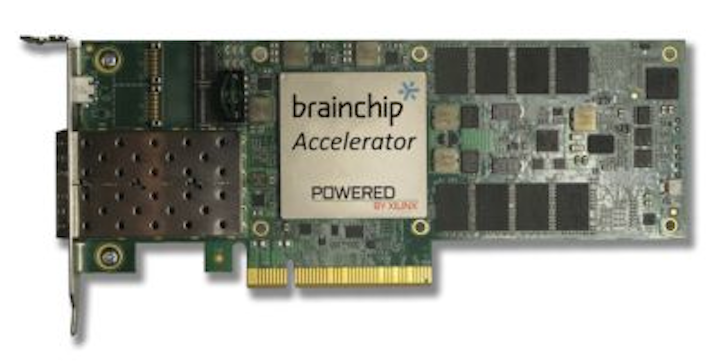 BrainChip Holdings Ltd.­—a developer of softwareandhardware accelerated solutions for artificial intelligence and machine learning applications—has shipped its first BrainChip Accelerator board to a major European automobile maker for evaluation in advanced driver assistance systems (ADAS) and autonomous vehicle applications.
Based on an 8-lane, PCI-Express add-in card, the board increases the speed and accuracy of the object recognition function of BrainChip Studio artificial intelligence softwareby up to six times, while increasing the simultaneous video channels of a system to 16 per card at more than 600 fps. Processing, according to the company, is done by six cores in a Xilinx Kintex Ultrascale FPGA, each of which performs user-defined image scaling, spike generation, and spiking neural network comparison to recognize objects.
Scaling images up and down, according to BrainChip, increases the probability of finding objects, and due to the low-power characteristics of spiking neural networks, each core consumes approximately one watt while processing up to 100 fps. The BrainChip Accelerator add-in card learns from a single low-resolution image, which can be as small as 20 x 20 pixels, and excels in recognition in low-light, low-resolution, noisy environments.
As the first commercial implementation of a hardware-accelerated spiking neural network (SNN) system, the shipment of the Accelerator board is a significant milestone in neuromorphic computing, a branch of artificial intelligence that simulates neuron functions, according to the company.
"This is an exciting first evaluation of BrainChip Accelerator that was released just last month," said Bob Beachler, BrainChip's Senior Vice President for Marketing and Business Development. "Our spiking neural network provides instantaneous "one-shot" learning, is fast at detecting, extracting and tracking objects, and is very low-power. These are critical attributes for automobile manufacturers processing the large amounts of video required for ADAS and AV [autonomous vehicle] applications."
He added, "We look forward to working with this world-class automobile manufacturer in applying our technology to meet its requirements."
View more information on BrainChip.
Share your vision-related news by contacting James Carroll, Senior Web Editor, Vision Systems Design

To receive news like this in your inbox, click here.
Join our LinkedIn group | Like us on Facebook | Follow us on Twitter