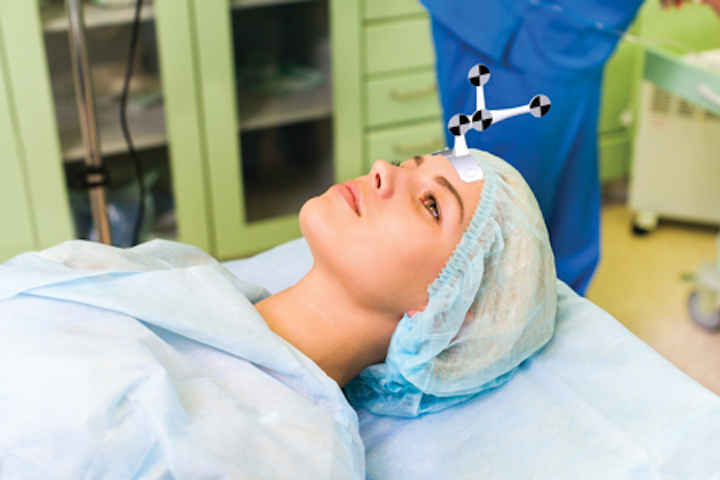 ClaroNav Kolahi Inc. (CKI) has received FDA 510(K) clearance from the Food and Drug Administration (FDA) to market and sell NaviENT, a system that dynamically determines the position of the tip of any surgical instrument in 3D using an optical triangulation technique.
Over the coming months, the company will offer the product for sales to hospitals, clinics, and offices performing endoscopic sinus surgery and skull base surgery in the US. NaviENT had previously been granted CE mark approval for the European market and Health Canada approval in 2016.
In September of 2016, Vision Systems Design covered this system, detailing how it was designed, and how it works. In order to locate a surgical instrument's tip, the system uses a Bumblebee XB3 three-sensor multi-baseline IEEE-1394b stereo camera from FLIR (Formerly Point Grey). This stereo camera features three 1.3 MPixel progressive scan CCD image sensors, two of which are used for acquiring left and right monochrome images with a 1280 x 960 resolution at 16 fps, while the third captures an overview of the scene.
In use, the camera detects the location of black and white checkered patterns affixed to both the surgical instrument and the patient's forehead. FLIR's FlyCapture software development kit running on Windows 10 is then used to acquire images. The position of the instrument relative to the patient tracker is calculated by ClaroNav's proprietary optical tracking software to a fraction of a millimeter.
>>> Editor's note: To learn more about how this system works, click here.
"Surgical Navigation system is a precious aid in primary surgery and its benefits are widely accepted among neurosurgeons and otolaryngologists," said Ahmad Kolahi, CEO of CKI. "Its 3D anatomical structure localization and visualization capability assists the surgeons to target specific anatomy and avoid complications in highly variable sinus anatomy. However, despite its obvious advantages, many surgeons are hesitant in adapting the technology, blaming its cumbersome operation and high price tag."
He continued, "NaviENT is an innovative navigation system designed in close collaboration with experienced rhinologists to address shortcomings of the current navigation systems. Our primary goal is to offer an intuitive, accurate and affordable state-of-the-art ENT navigation system and make it standard-of-care in the ENT field."
Study shows, according to CKI, that surgical navigation systems would allow more complete dissection, obviating the need for revision surgery. The American Academy of Otolargyngology – Head and Neck Surgery endorses the use of image-guided surgery for many functional endoscopic sinus surgery and skull base procedures.
"NaviENT was designed in concert with rhinologists to develop the most user-friendly, accurate, reliable, and affordable navigation system on the market. It is clear that they have achieved their goals. In this case, using is believing." said Peter Catalano, MD, FACS, FARS, Professor of Otolaryngology, Chief of Otolaryngology, St. Elizabeth's Medical Center, Boston.
"NaviENT," he explained," is a most welcome addition for the ENT surgeon. This portable system provides quick set-up and accurate registration, a user-friendly interface, and versatile re-usable intra-operative tools. In addition, there are no disposable costs and the sale price is extremely affordable. NaviENT will effectively bring surgical navigation to every corner of the globe."
View more information on the system.
Share your vision-related news by contacting James Carroll, Senior Web Editor, Vision Systems Design

To receive news like this in your inbox, click here.
Join our LinkedIn group | Like us on Facebook | Follow us on Twitter