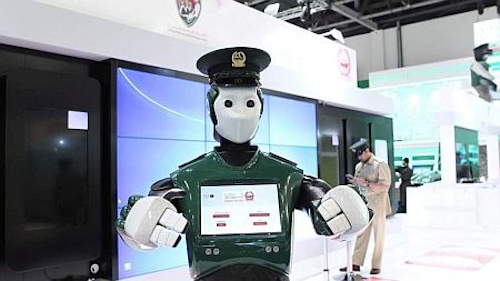 A humanoid robot that utilizescameras, the Internet of Things, and artificial intelligence, has officially been welcomed as a new member of the police force in Dubai.
The autonomous "Robocop" began duties by greeting guests at the opening of the 4th Gulf Information Security Expo and Conference (GISEC) on May 23 at the Dubai World Trade Center (DWTC). The robot stands nearly 70 in. tall and weighs nearly 220 lbs. and features an "emotion detector" which recognizes gestures and hand signals from up to 5 ft. away. The emotion detector is designed to detect if a person is happy, sad, or smiling, and can change its expression and greetings accordingly.
Additionally, the robot features built-in cameras and utilizes facial recognition software to assist police officers in identifying and catching offenders. The robot's cameras also stream live video to the police command center.
"With an aim to assist and help people in the malls or on the streets, the Robocop is the latest smart addition to the force and has been designed to help us fight crime, keep the city safe and improve happiness levels," said Brigadier-General Khalid Nasser Al Razzouqi, Director-General of Smart Services at Dubai Police. "The launch of the world's first operational Robocop is a significant milestone for the emirate and a step towards realizing Dubai's vision to be a global leader in smart cities technology adoption."
Robocop's features also include the ability to map the inside of a building and navigate autonomously through its self-control and drive feature, as well as a built-in tablet that enables people to interact and even pay the robot for various services. It is also able to communicate in six languages, including Arabic and English, while also being able to respond to queries, shake hands, and even offer a military salute.
Dubai's robot will be linked to various social media channels, artificial intelligence systems, mobile applications, websites, and more, according to The Khaleej Times.
"Robots and autonomous machines are shaping and redefining our future and transforming the way we function. Technological advancements are enabling robots to talk, see, feel and react to objects and humans. The age of the robots is no longer coming - it has arrived," said Trixie LohMirmand, Senior Vice President, Exhibitions & Events Management, DWTC.
This robot policeman is yet another example of robots that are being deployed outside of the factory for various applications. These include:
View The Khaleej Times article.
Share your vision-related news by contacting James Carroll, Senior Web Editor, Vision Systems Design

To receive news like this in your inbox, click here.
Join our LinkedIn group | Like us on Facebook | Follow us on Twitter
Learn more: search the Vision Systems Design Buyer's Guide for companies, new products, press releases, and videos