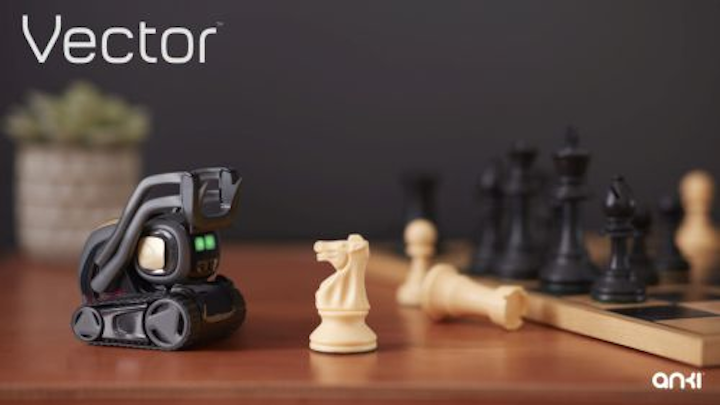 Consumer robotics and artificial intelligence (AI) company Anki has announced the development of Vector, a new miniature robot that is designed to provide a different type of experience than some of the other, more well-known home robots.
Standing just three inches high, Vector is a home robot "with personality," that is fully autonomous, cloud-connected, and "always on," according to Anki, the company that developed the Cozmo mobile robot (the #1 best-selling toy on Amazon in 2017 in U.S., U.K., and France), as well as Overdrive intelligent racing system.
The robot is designed to fit naturally into a person's daily life with minimal maintenance. It does so through the technology that Anki has equipped the robot with—including sensors and artificial intelligence technologies—that enables it to see its surroundings, recognize people and objects, hear what is happening, find and connect to its charger, and avoid obstacles while navigating.
Vector's "brain" is built on a Qualcomm Snapdragon processor (1.2GHz), that enables on-device AI capabilities such as machine learning algorithms that help it detect and avoid objects. It features a four-microphone array, a single point Time-of-Flight near-infrared (NIR) laser, an HD camera with 120° field of view, 802.11n Wi-Fi, Bluetooth, and four cliff sensors, which are infrared emitters installed under the corners of the robot that prevent it from falling off edges. When low on energy, Vector can locate and roll back to its charger to boost its battery.
"For over five years, Anki has brought together a team of experts across various fields to create the world's first affordable, character-rich robot capable of surprising and delighting humans," said Boris Sofman, CEO and co-founder at Anki. "Vector is the culmination of everything we've learned in this journey so far, and a bold next step in our vision for entertaining and purposeful robots in every home, everywhere. Today marks the starting point in an overall expansion for our robotics platform and how we combine the latest technologies in robotics and artificial intelligence with our novel approach to character and interface.
>>> Editor's note: View a blog post on why Anki is using Kickstarter for the robot.
He added, "For the first time, people will be living with a robot that is able to bring both a warm and joyful experience, as well as a new and characterful form of utility. This builds a bridge not just to a new category of home robots, but our own future product lines that will continue to expand on the level of capabilities that are possible."
Vector is also equipped with a high-resolution color display which is used to highlight Vector's nearly 1,000 animations that are designed to give the robot personality as it reacts to its environment "in a way that's not only full of personality but also meaningful," according to the company. Additionally, Vector has a capacitive touch sensor built on its back that enables it to respond to human touch, as well as the ability to communicate through a unique sound palette.

Useful or fun features touted by Anki include the ability of the robot to dance when it hears music, a custom text-to-speech feature that enables it to answer questions, and the ability to take pictures for you, and to even play games.

"Vector is spearheading a transformation in consumer robotics using Qualcomm Technologies' innovations in heterogeneous compute, camera, A.I., security and connectivity which allow for very small devices with exceptional intelligence, thermal efficiency, and battery life," said Dev Singh, director of business development, robotics, Qualcomm Technologies, Inc. "We are pleased to support Anki on its journey to evolve robots – going from utilitarian machines into smart, friendly, and relatable companions that will bring joy to many people's lives."
Vector is currently available on Kickstarter and will retail for $249.99 with one base charger and one interactive accessory cube. Anki notes that—while Vector is an autonomous, always-on robot, it does require a smart device running the companion app (available on iOS and Android) for initial setup.
View the Vector press release.
View the Kickstarter page.
Share your vision-related news by contacting James Carroll, Senior Web Editor, Vision Systems Design

To receive news like this in your inbox, click here.
Join our LinkedIn group | Like us on Facebook | Follow us on Twitter