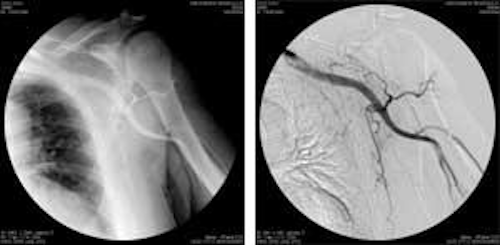 Andrew Wilson, Editor, andyw@pennwell.com
In traditional angiography, images of blood vessels are acquired by exposing the patient to time-controlled x-ray energy while injecting contrast medium into the blood vessels. In this method, the images obtained also record other anatomical structures besides blood vessels. To remove these, mask images consisting of images of the same area without contrast administration are subtracted from sequences of images taken while contrast dye is injected into the patient.
While such applications require high-speed acquisition and processing of long sequences of images, image processing is made more difficult by the movement of the patient and the need to correct for any image distortions. However, the resulting images give doctors a clearer trace of the contrast material's path through blood vessels.
In the development of its X-Frame CCD digital subtraction angiography (DSA) system, Italray (Florence, Italy; www.italray.it) has used off-the shelf image-processing components to allow DSA to produce images in real time while producing sharper images and lowering radiation dosage to the patient.
Operating from a PC running Windows 2000, the system uses a QX series image intensifier from Thales (Alexandria, VA, USA; www.thalesgroup-northamerica.com) to convert x-ray to light images acquired by a 1024 × 1024 × 12-bit CCD also from Thales. The camera sends the data at up to 60 frames/s to the frame grabber. To sustain the high frame rate, the X Frame CCD system uses a PCI-X bus operating at 64 bits.
Italray combines a X64-LVDS frame grabber from Dalsa Coreco (St.- Laurent, QC, Canada; www.imaging.com) with the company's Sapera software and proprietary applications to perform all necessary steps in the acquisition, process, and display of the data. Proprietary software then performs recursive filtering, which includes operations to remask the original masked images to reduce artifacts and edge enhancement.
"Selecting and applying the look-up tables (LUTs) necessary to enhance image features in real time is crucial," says Ciro Rebuffat, software-development manager at Italray. "Typically, images are acquired with a 12-bit CCD camera for these types of radiology applications. A different LUT is needed, depending on exam typology and image content, to convert these 12 bits to 8 bits for accurate display."
In converting images to 8 bits, differences between pixels' gray levels must be saved or important information would be lost. "The absolute value of the gray level of a pixel is not very important in medical images," Rebuffat explains. "What is important is the relative difference in gray levels between neighboring pixels. Maintaining the small differences in gray values makes it possible to detect more anatomical detail, which can be critical when viewing second- and third-order veins and arteries."
After processing, the images are converted to 8 bits for display on an 18-in. flat-screen LCD monitor from Eizo (Cypress, CA, USA; www.eizo.com) and simultaneously saved in the original 12-bit format on two serial ATA hard drives in RAID configuration. The system provides 30-frames/s storage at maximum resolution and 60-frames/s storage at 1024 × 512 × 12 and can archive up to 75,000 images. Saved images can be manipulated in various ways, including filters, LUTs, rotations, and adding overlay annotations and measures, and can be saved in the DICOM format.