In this week's roundup from the Association for Unmanned Vehicle Systems International (AUVSI), which highlights some of the latest news and headlines in unmanned vehicles and robotics, learn about AT&T's unmanned aerial system (UAS) with LTE called the Flying COW (Cell on Wings), which is being used to provide cell phone service for those in need in Puerto Rico.
Additionally, learn about the FAA's grant for Special Airworthiness Certificate to Aurora Flight Sciences' UH-1H helicopter, which is the company's newest optionally-piloted aircraft, and the third manned aircraft overall that Aurora has converted to robotic-controlled or OPA operation, as well as a new UAS software platform.
AT&T's Flying COW UAS providing cell service in Puerto Rico
According to Ars Technica, 48 percent of cell sites in Puerto Rico are still out of service in the aftermath of Hurricane Maria, so to help address this issue, AT&T is using a UAS equipped with LTE called the Flying COW (Cell on Wings) to reconnect people who lost wireless service following the storm.
According to AT&T, the UAS is capable of extending coverage "farther than other temporary cell sites." It hovers 200 feet above the ground as it provides wireless connectivity in an area of up to 40 square miles. One Flying COW UAS can provide coverage to up to 8,000 people at the same time, depending on equipment and network factors.
In an announcement on Nov. 6, AT&T touted the UAS and its capabilities, saying, "as we work to permanently restore our network, this experimental technology is providing data, voice, and text services to customers. This is the first time an LTE cell site on a drone has been successfully deployed to connect residents after a disaster."
The UAS, which is 7.5 feet in diameter, can stay in the air for an extended amount of time, making it ideal for use in remote areas. Right now, the UAS is operating in the San Juan area, but according to AT&T, the UAS will be relocated to support other areas such as the military hospital at Manati Coliseum.
Currently, only one Flying COW is in operation, but AT&T tells Ars Technica that they are testing more UAS models to add to the fleet. At this point in time, more than 30 percent of the people in Puerto Rico still lack service, but AT&T's teams are working rapidly to restore the network in Puerto Rico.
Aurora's Optionally-Piloted UH-1H receives Special Airworthiness Certificate from FAA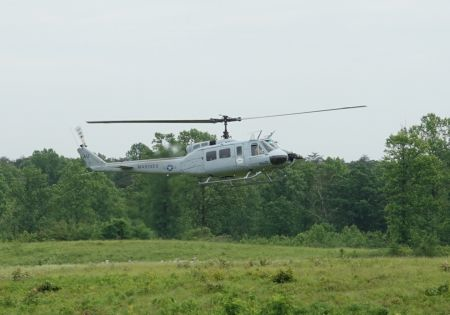 The FAA has granted a Special Airworthiness Certificate to Aurora Flight Sciences' UH-1H helicopter, which is the company's newest optionally-piloted aircraft, and the third manned aircraft overall that Aurora has converted to robotic-controlled or OPA operation.
As the latest development in the Office of Naval Research's (ONR) Autonomous Aerial Cargo/Utility System (AACUS) program, Aurora has created the "Autonomy-enabled UH-1," also known as AEH-1, by adding a complete digital flight control system.
"The Special Airworthiness Certificate is a significant validation of the program's capabilities by the FAA," says John Langford, Aurora Chairman and CEO.
"The OPA technology not only enhances the UH-1H system but will expand the operational capability of the mission in the field."
With a focus on the digital flight control system's safety and maturity, the AEH-1 permits the quick development and testing of up and coming rotorcraft autonomy technologies.
Currently, the aircraft is flying as the testbed for Aurora's Tactical Autonomous Aerial Logistics System (TALOS) technology.
The latest manned aircraft to be converted to a robotic vehicle, the UH-1 was originally developed back in the late 1950s, and it became well known for its use during the Vietnam War.
DroneDeploy unveils "sweeping updates" to its enterprise software; announces new partnerships
According to Unmanned Aerial, DroneDeploy, which is a San Francisco-based UAS software platform provider, has unveiled "sweeping updates" to its enterprise software.
Acknowledging the need for large organizations to be able to keep track of the data they are generating, along with safety issues and data breaches, DroneDeploy is now offering "Security Assertion Markup Language-based Single Sign-On; user roles (administrators, view only, etc.); a dashboard that allows administrators to see every map ever created with DroneDeploy; an audit trail view to track exactly where drones have gone; and folders to group related maps and projects." Additional enhancements will be offered as well.
Through these new rollouts, DroneDeploy says that it will be easier to track hundreds of pilots and collaborators at a glance, as these features will make it possible to see where they have flown, what routes they have mapped, and the data that they have collected and analyzed.
"More and more companies are moving past early drone technology adoption to roll out larger, enterprise deployments – and their software platform needs to expand with them," says Mike Winn, CEO of DroneDeploy.
"We're passionate about providing these team-oriented features to all our customers. Drones are transforming workflows, and every company deserves software to help them make smarter decisions with aerial data."
The new updates are available to all mapping professionals or organizations looking for UAS capabilities, no matter what size they are.
"We're putting enterprise capabilities into the hands of everyone with our latest release – from small organizations just getting started to international teams scaling operations," Winn adds.
DroneDeploy has new also announced collaborations with three entities: DARTdrones, GeoCue and Droneinsurance.com—all of whom bring something different to the table.
DARTdrones offers enterprise-level UAS training. GeoCue offers its Loki direct geopositioning system, which allows customers to create extremely accurate UAS maps in record time, and lower or eliminate the need for ground control points or traditional surveying. Droneinsurance.com offers customers comprehensive insurance.
Lastly, DroneDeploy has announced support for the DJI Matrice 200 series, which Jan Gasparic, head of enterprise partnerships at DJI, commented on.
"DroneDeploy's latest expanded software offering will enable enterprises to truly reap the benefits of the DJI Matrice 200 Series and provide more insights into their decision-making," Gasparic says.
"These expanded features and collaborations showcase their commitment to helping companies of all sizes utilize the power of DJI technology in today's rapidly expanding commercial drone industry."
View more information on the AUVSI.
Share your vision-related news by contacting James Carroll, Senior Web Editor, Vision Systems Design

To receive news like this in your inbox, click here.
Join our LinkedIn group | Like us on Facebook | Follow us on Twitter