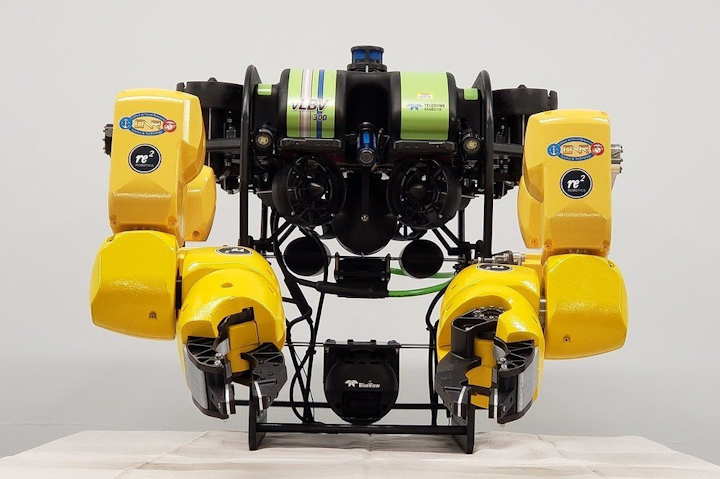 In this week's roundup from the Association for Unmanned Vehicle Systems International, which highlights some of the latest news and headlines in unmanned vehicles and robotics, a new drone system developed in Boston for golf course and farm inspection, the U.S. Navy approves funding to develop an underwater robot hand with tactile feedback, and Little Roady vehicles hit the road in Providence, Rhode Island.
GreenSight's UAS inspects golf courses and farms
A Boston company called GreenSight has developed a UAS that inspects golf courses and farms.
Flying high above the turf or crops, the UAS can spot diseases or dry spots.
"The future of drone technology is unattended drones that actually fly themselves so that reduces labor," says James Peverill, co-founder of GreenSight, via CBS Boston.
Light enough to fly for long distances on a single charge, the UAS is equipped with a variety of technologies, including a cellular modem, a Wi-Fi modem, auto-pilot, and a GPS receiver on the top. Underneath the UAS are three different cameras—visual, infrared and thermal.
Once the UAS flies over an entire golf course or farm and takes pictures with those cameras, it stitches them all together to detect the health of the course. When the UAS lands, it uploads the information and sends it to the golf course's superintendent or the farmer.
"They can view that data in the evening or in the morning before they get to work and they can plan out their whole day, and they get alerts about where there are diseases and where there's problems," Peverill says.
GreenSight's goal is to eventually have its UAS at thousands of golf courses and small farms across the country.
"We want to have national coverage using these systems on farms, golf courses; we're doing a bunch of bridge inspection, roadway inspection work with local DOTs, construction sites," Peverill says. "We have all kinds of plans."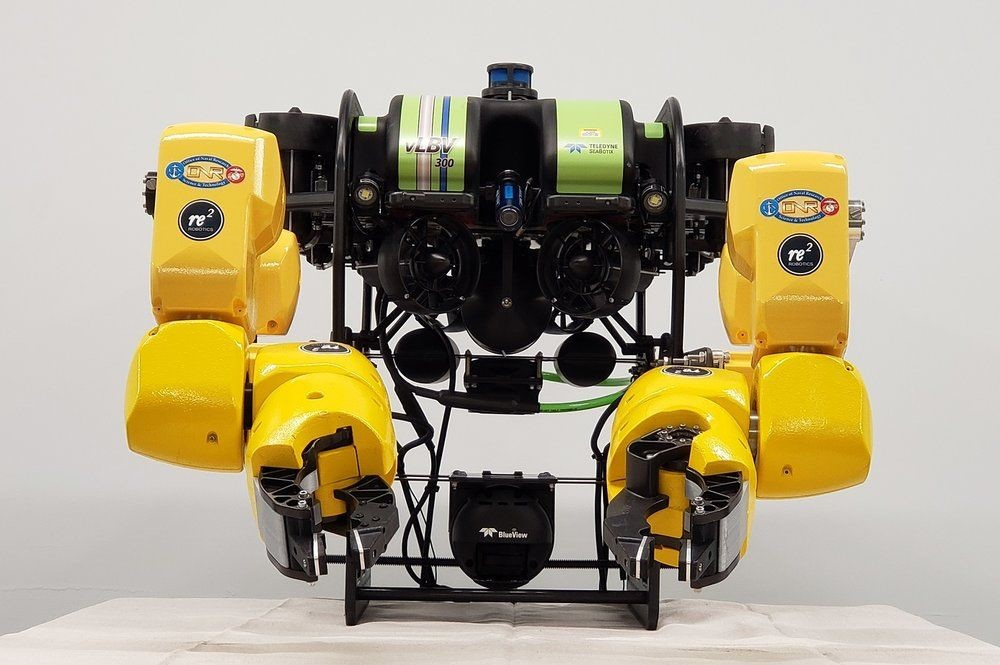 RE2 Robotics to develop dexterous, underwater robotic hand for U.S. Navy

RE2 Robotics has announced that it has received $3 million in funding to develop a dexterous, underwater robotic hand with tactile feedback for the U.S. Navy.
Known as Strong Tactile mARitime hand for Feeling, Inspecting, Sensing and Handing (STARFISH), the program will create an "advanced end-effector for mine countermeasures (MCM) and explosive ordnance disposal (EOD) missions" for U.S. Naval expeditionary forces.
Equipped with next-generation tactile sensing technology and a multi-finger, electromechanical design, STARFISH will give operators the ability to locate, identify and neutralize hidden and visible explosive threats on land and underwater. RE2 notes that STARFISH-enabled manipulators will be deployed on ground-based, as well as underwater robotic, systems to defeat explosive threats.
"The development of STARFISH takes underwater robotic technology to the next level by providing operators with the ability to 'feel' and sense the environment around them while remaining at a safe distance," explains Jorgen Pedersen, president and CEO of RE2 Robotics.
"The use of advanced tactile sensing and intelligent grasping will improve operational performance by removing operators from dangerous areas and allowing them to quickly and accurately respond to explosive threats."
To develop the hand, RE2 will collaborate with researchers at UCLA and the University of Washington. The hand will utilize state-of-the-art tactile skin and "sensorized" fingertips that are capable of sensing normal and shear forces.
Information provided by external sensing such as cameras, sonar or lidar will be used to command the hand. That information will then be processed with machine-learning algorithms to help the operator manipulate the object.
"Tactile sensing at the end effector can provide a wealth of information about the environment to a robotic system and its operator," says Dr. Andrew Mor, RE2 principal investigator.
"Using a rich network of sensing, machine learning and assisted manipulation, STARFISH will be able to perceive and then share its interpretation of the environment with the operator, allowing Naval expeditionary forces to manipulate and control the robot at human speed."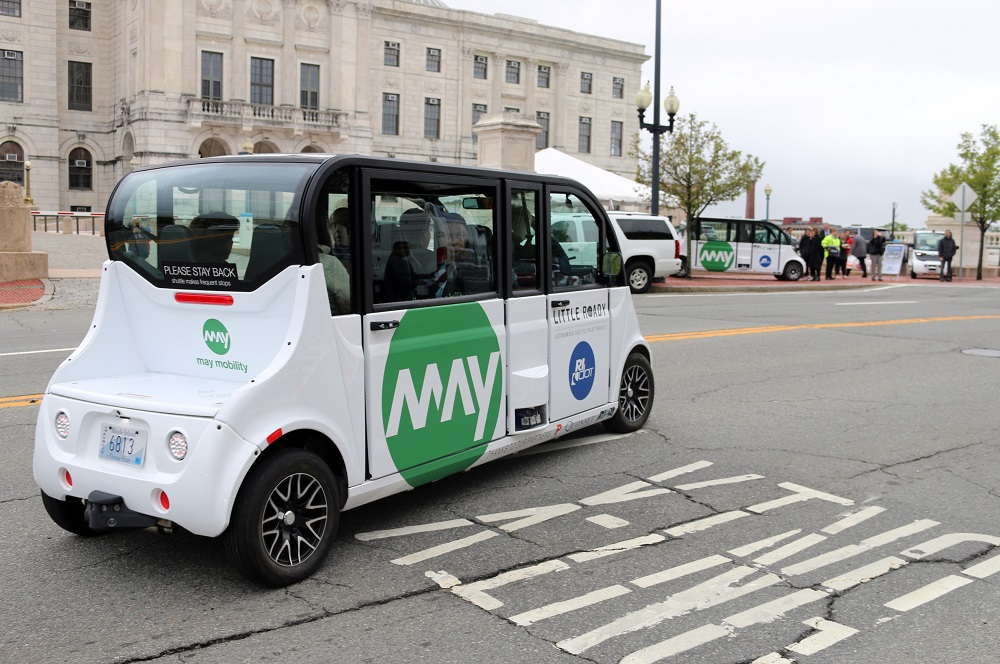 Little Roady autonomous vehicle pilot project begins service in Providence, Rhode Island

The Little Roady autonomous vehicle pilot project in Providence, Rhode Island went into service on Wednesday, May 15.
Launched with the intent to evaluate autonomous mobility technology, the research project, which is offering free service to riders, will help the Rhode Island Department of Transportation (RIDOT) "better understand the opportunities and challenges that come with integrating this new technology into RIDOT's transportation planning," the department says.
RIDOT adds that the research will help improve transit, and provide information for communities, the workforce, and policymakers.
"It's always exciting when Rhode Island has an opportunity to lead the way in cutting-edge green technology," says Governor Gina Raimondo.
"This project will provide valuable data for states across the country as we move beyond conventional transit services to provide better, cleaner, and more accessible transportation for all."
Operating seven days a week, from 6:30 a.m. to 6:30 p.m., the service will have 12 stops. RIDOT says that the shuttles will run on a continuous, 5.3-mile loop on low-speed roads with an average wait time of about 10 minutes. Trip time will be about 20-25 minutes each way from the first stop to the last stop.
"The kickoff of this service and research project is another achievement for the new DOT," says RIDOT Director Peter Alviti, Jr.
"Our transportation agency has literally been rebuilt to effectively deliver safer roads and bridges while simultaneously studying and piloting new technologies. In doing so, we'll keep Rhode Island well ahead of the curve for the transportation solutions of tomorrow."
May Mobility Inc. has provided the shuttles for the project. Equipped with a suite of sensors and intelligent software, the shuttles understand their environment and how to safely navigate through it. According to RIDOT, the entire fleet has undergone 500 hours of testing, which included detailed mapping so that the shuttles know every inch of their route, and how to operate in various traffic and weather conditions.
"By partnering with RIDOT, May Mobility is showing how our self-driving shuttles can be part of a sustainable future for communities," says Edwin Olson, CEO and founder of May Mobility.
"Our environmentally-friendly shuttles aren't just fun-to-ride, they can increase access and convenience for a large number of people."
Share your vision-related news by contacting Dennis Scimeca, Associate Editor, Vision Systems Design

To receive news like this in your inbox, click here.