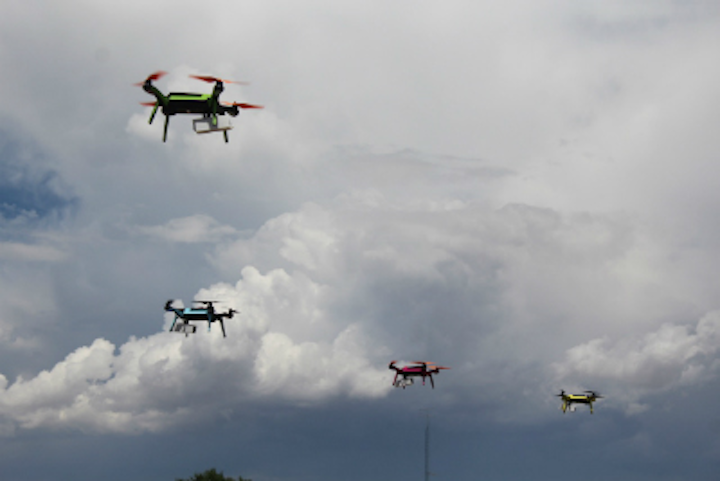 In this week's roundup from the Association for Unmanned Vehicle Systems International, which highlights some of the latest news and headlines in unmanned vehicles and robotics, telehandlers clear airfield and test range debris after they sustain hurricane damage, Oklahoma State University gains permission to fly fixed-wing drone swarms, and Rome, NY hosts an integration of UAS into traffic control systems.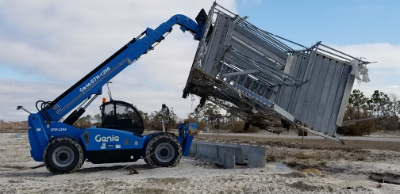 RE2 Robotics uses its RADR robotic applique kit to preform robotic disaster cleanup in Florida
RE2 Robotics has announced that a commercially available telehandler equipped with its Rapid Airfield Damage Recovery (RADR) robotic applique kit performed teleoperated disaster clean-up at the Air Force Civil Engineering Center (AFCEC) in Florida.
Located at Tyndall Air Force Base, AFCEC was badly damaged during Hurricane Michael in October 2018.
"Tyndall Air Force Base sustained catastrophic damage during Hurricane Michael," says Jorgen Pedersen, president and CEO of RE2 Robotics.
"When we were asked to use the Air Force-funded RADR robotic retrofit kit technology to assist with the clean-up efforts, we deployed our team without hesitation."
In support of cleanup from Hurricane Michael, RE2 demonstrated two distinct operations using a Genie GTH-1256 telehandler. The first operation used a brush attachment to demonstrate sweeping, which helped clear a roadway of debris. The second operation used the fork attachment to demonstrate debris removal.
RE2 also helped clean a test range, during which it helped remove different types of debris including culverts, metal structures, sheet metal and a large, tubular structure.
Additionally, RE2 showcased non-line-of-sight teleoperation of the telehandler, including simultaneous operation of the vehicle, boom, and auxiliary hydraulics.
It only took RE2 minutes to train AFCEC and AFCEC contractors how to teleoperate the vehicle and perform debris removal. Teleoperation with the RE2 Operator Control Unit (OCU) is very similar to actual vehicle operation, so training time was minimal, RE2 notes.
"Consistent with our company's mission, the teleoperated RADR technology was able to keep AFCEC telehandler operators at a safe distance while performing this dangerous clean-up mission," Pedersen says.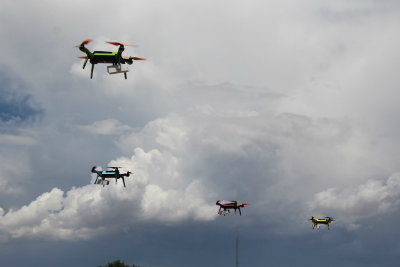 OSU's Unmanned Systems Research Institute receives first FAA authorization to fly fixed wing UAS in swarms
Oklahoma State University (OSU) has announced that its Unmanned Systems Research Institute (USRI) has received the first FAA authorization to fly fixed wing UAS in swarms within the national airspace.
With this flight authorization, a single pilot, along with visual observers for safety considerations, will be allowed to operate a swarm of up to 20 fixed wing aircraft.
According to OSU, the configuration that its researchers have developed creates a "swarm of swarms" where groups of UAS fly within smaller flocks as part of a larger swarm, communicating with a local group leader which then coordinates flights with the overall swarm formation.
"Swarms are the future of autonomous flight," says Jamey Jacob, professor of mechanical and aerospace engineering and director of the Unmanned Systems Research Institute at OSU.
"This unique first of its kind approval just takes us one step closer to demonstrating for the first time the safe and efficient autonomous flight that will be common place in years to come."
OSU notes that its research into swarming UAS will advance UAS capabilities into safe operation of autonomous vehicles within the national airspace. The research will also have a direct application into ongoing OSU research in weather, environmental and infrastructure motoring, agriculture, security, and airspace operations.
"It is incredible to be a part of such groundbreaking research as OSU paves the way ahead for expanded autonomous operations," says Gary Ambrose, research development manager and adjunct professor of mechanical and aerospace engineering at OSU.
"This step opens the door for many of our research partners and sponsors; as we expand their UAS operability and capability."
ANRA Technologies' UTM platform implemented into New York State UAS test site
ANRA Technologies' UAS traffic management (UTM) platform has been successfully implemented into the New York State UAS test site by the Northeast UAS Airspace Integration Research Alliance (NUAIR) and Griffiss International Airport in Rome, New York.
With this implementation, the test site's capabilities have been advanced thanks to the enhancement of multiple, simultaneous beyond visual line of sight (BVLOS) operations that involve both manned and unmanned vehicles sharing the same airspace.
Additionally, ANRA Technologies not only enhances tracking, but it also supports network based Remote ID and detect-and-avoid capabilities.
"The implementation of ANRA's technologies brings great agility and currency to the New York State UAS test site and keeps NUAIR on the path to bring the test site to full operational capability by early August of this year," says Major General Marke F. "Hoot" Gibson (ret), chief executive officer of the NUAIR Alliance.
"ANRA joins our team of UAS service suppliers at the test site and has implemented world-class flight and range information management systems, significantly enhancing our UAS testing capabilities."
Designed to integrate both participating and non-participating UAS into a single operational UTM system, the ANRA UTM platform is equipped with a variety of features, including the ability to track UAS, command and control, and flight planning and monitoring.
NUAIR notes that it hosted a two-day conference in January that included more than 40 UAS industry experts from 20 global companies. During the conference, specific "real-world" scenarios were outlined, including testing participating and non-participating UAS in the same airspace.
According to NUAIR, this scenario demonstrates commercial viabilities of UAS, while taking a look at the technical challenges of operating multiple UAS in shared airspace. This testing capability is now possible at the New York State UAS test site thanks to the implementation of the ANRA UTM platform.
"We are excited to work with NUAIR and the NYS UAS Test Site on evolving UTM capabilities and performance standards that will hopefully help define the requirements for an Air Navigation Service Provider (ANSP) "Approvable" service," says Amit Ganjoo, CEO of ANRA Technologies.
"Without initiatives like this in place, it will be extremely challenging to justify implementation of a commercially viable UTM to support safe BVLOS operations."
Share your vision-related news by contacting Dennis Scimeca,Associate Editor, Vision Systems Design

To receive news like this in your inbox, click here.