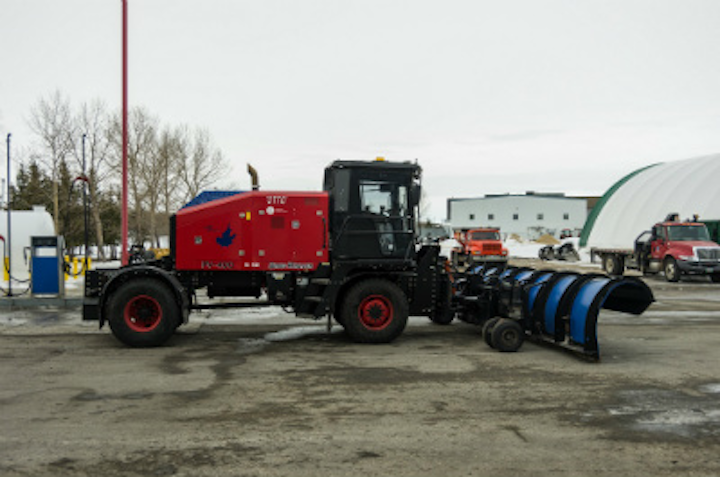 In this week's roundup from the Association for Unmanned Vehicle Systems International, which highlights some of the latest news and headlines in unmanned vehicles and robotics, drones inspect San Francisco's tallest building, Canada deploys an autonomous snowplow for airports, and a new automotive-grade camera and vision system prepares to hit the marketplace.
UAS inspect exterior of San Francisco's tallest building
Drones were recently used to inspect the exterior of San Francisco's tallest building, Salesforce Tower.
The UAS inspection was completed over two weekends in October, which is far shorter than the traditional methods that would have taken 400 to 500 hours over four to five months.
The inspection was completed using drone software created by SiteAware, which is a company headquartered in Tel Aviv that builds software that automates the UAS flights and digitally scans building photos to identify where potential problem areas are.
"We interviewed the firm and were impressed by them," says Helen Han, spokeswoman for Boston Properties, via the San Francisco Chronicle. Boston Properties owns Salesforce Tower.
"We thought the technology was cutting edge. It's much more efficient than having a window washing rig lowered down the building since the photography is just as good."
SiteAware worked with a Corte Madera operations company called DroneHive to complete the Salesforce Tower inspection. Sidewalks were closed off during the inspection, and the UAS flew in the morning to avoid winds.
Winnipeg Richardson International Airport launches first autonomous airport snowplow in North America
Canada's Winnipeg Richardson International Airport recently launched the first autonomous airport snowplow in North America.
A product of Manitoba, Canada companies Northstar Robotics Inc. and Airport Technologies Inc. (ATI), the snowplow, known as Otto, is a specially designed ATI Snow Mauler built to operate autonomously using technology from Northstar Robotics. Otto follows predetermined routes and controls the plow blade at specific locations to conduct its snow clearing duties.
According to Winnipeg Richardson International Airport, Otto is now capable of operating autonomously in low-risk areas of the airport. The next step is for Otto to operate in other areas of the airport.
Equipped with 3D LIDAR and RADAR, Otto can sense its surroundings and detect obstacles. For added safety, Otto is also equipped with a fault tolerant wireless emergency stop system.
"Launching North America's first autonomous snowplow is a great achievement for Winnipeg Richardson International Airport," says Barry Rempel, president and CEO of Winnipeg Airports Authority.
"Our success is a direct result of bringing together partners who are committed to lead transportation innovation and growth."
TuSimple develops automotive-grade camera and vision system for autonomous trucks
TuSimple has developed a proprietary automotive-grade camera and vision system that will be deployed on its autonomous customer fleet by Q3 2019.
Expected to go into volume production in Q2 2019, the system offers "enhanced reliability of autonomous operation," according to TuSimple. The company adds that the system is a necessary step in its goal of commercializing the first driverless truck.
Equipped with Sony Semiconductor Solutions Corporation's automotive CMOS image sensor, the custom designed camera system facilitates reliable night and low light autonomous operation. TuSimple says that adding nighttime operation to its 1,000 meter perception system will allow fleets to increase truck utilization from an average of 50 percent (12 hours per day) to an average of over 80 percent.
"Bringing reliable nighttime and low light operation to current perception systems in the market is an important step in the viability of autonomous driving, which is a strategic focus for us," says Tsutomu Haruta, Automotive Business Division Deputy SGM, Sony Semiconductor Solutions Corporation.
"We're pleased that TuSimple, the leading self-driving truck company appreciates the cutting-edge technology that Sony is known for."
Utilizing Sony Semiconductor Solutions Corporation's automotive CMOS image sensor, TuSimple has created a set of camera systems for short, medium and long range that use TuSimple's software to detect and process sharp images in real-time as far as 1,000 meters away.
The system helps address difficult imaging challenges such as instant light changes when entering and exiting tunnels, flaring during sunrise and sunset, and headlight glare, and it can also handle the LED flicker created by digital signage and traffic lights.
"The combined expertise of Sony Semiconductor Solutions Corporation and TuSimple has created a perception system that sees better than the human eye – night and day, rain or shine — in the most challenging driving conditions," says Dr. Xiaodi Hou, founder, president and chief technology officer, TuSimple.
TuSimple points out that the new camera system is designed to Automotive Safety Integrity Level (ASIL)-C, which, the company notes, is important for the validation of safety-related electronic systems that must be highly reliable in specific driving conditions as outlined in the ISO 26262 Functional Safety standard.
As the system integrator, Sunny Optics will not only test the product and module, but also develop and manufacture the automotive-grade product.
Share your vision-related news by contacting Dennis Scimeca,Associate Editor, Vision Systems Design

To receive news like this in your inbox, click here.