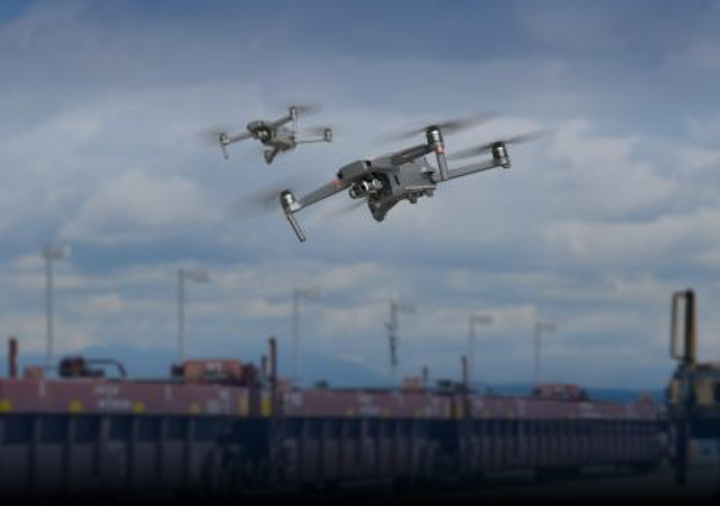 DJI's Mavic 2 Enterprise Dual Drone will feature FLIR thermal imagingcamerasthat will bring thermal imaging, as well as visible imagery, to users such as first responders, industrial operators, and law enforcement personnel.
Mavic 2 Enterprise Dual—which was on display at the Consumer Electronics Show 2019 in Las Vegas—pairs a FLIR thermal camera with a visible camera, along with FLIR's patented MSX Technology, or multispectral dynamic imaging, which the company says, "embosses high-fidelity, visible-light details onto the thermal imagery to enhance image quality and perspective." The drone is a compact, foldable quadcopter that measures, unfolded, 214 x 91 x 84 mm and weighs just 899 g. Add-on options for the drone include a spotlight, speaker, and beacon.
For thermal imaging capabilities, the drone uses FLIR's Lepton camera core, which features a 160 x 120 uncooled VOx microbolometer array and is sensitive in the longwave infrared range from 8 to 14 µm. For its visual camera, the Mavic 2 Enterprise Dual features a 1/2.3", 12 MPixel CMOS image sensor that captures image sizes of up to 4056 x 3040 as well as dynamic zoom (2x optical and 2x digital zoom capability).
"The addition of thermal imaging capabilities provided through the Thermal by FLIR Program enables DJI to create dynamic airframes that can fly in a variety of conditions, including at night and in fog and smoke," said Roger Luo, President at DJI. "With the Mavic 2 Enterprise Dual, we can offer more commercial drone pilots the additional value of side-by-side thermal and visible imagery in a highly portable drone, enabling more commercial drone operations from utility inspections to emergency response."
The Thermal by FLIR program was created to support OEMs and product innovators interested in using FLIR thermal imaging sensors. The program, according to FLIR, ensures that OEMs and users can carry the Thermal by FLIR brand and receive additional product development and marketing support from FLIR to build and market their respective products. Additional Thermal by FLIR partners include Cat Phones, Casio, and Panasonic.
In addition to the examples above, FLIR notes that the drone was designed for applications such as firefighting, search and rescue, and the inspection of power lines, bridges, and cell towers.
View more information on the Mavic 2 Enterprise drone.
Share your vision-related news by contacting James Carroll, Senior Web Editor, Vision Systems Design

To receive news like this in your inbox, click here.
Join our LinkedIn group | Like us on Facebook | Follow us on Twitter