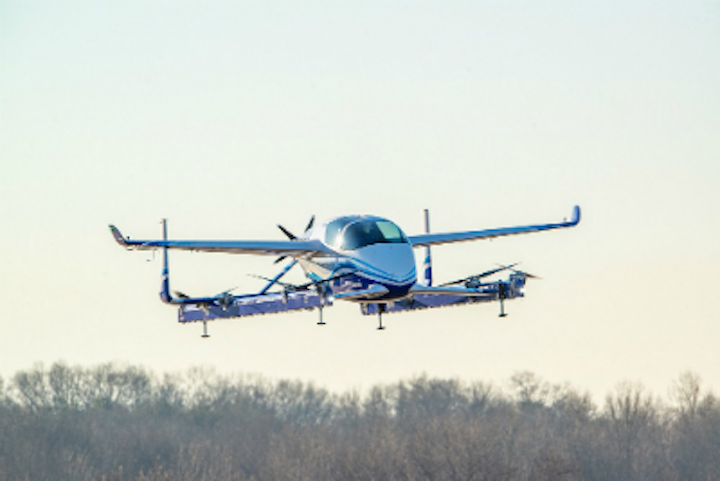 In today's roundup from the Association for Unmanned Vehicle Systems International (AUVSI) which highlights some of the latest news and headlines in unmanned vehicles and robotics, Boeing successfully tests an autonomous VTOL aircraft, Texas lays the organizational groundwork for autonomous vehicle adoption, and autonomous ocean robots investigate the underside of ice sheaths.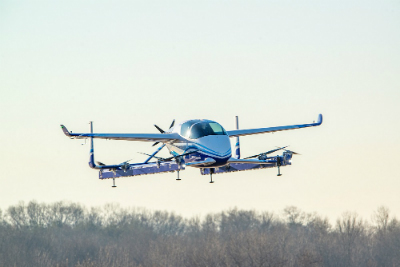 Boeing completes first test flight of its autonomous passenger air vehicle prototype
On Tuesday, Jan. 22, Boeing successfully completed the first test flight of its autonomous passenger air vehicle (PAV) prototype in Manassas, Virginia.
During the flight, the PAV prototype, which is 30-feet long and 28-feet wide, completed a controlled takeoff, hover and landing, which tested its autonomous functions and ground control systems.
Boeing says that future flights will test forward, wing-borne flight, as well as the transition phase between vertical and forward-flight modes—a phase that is usually the most important engineering challenge for any high-speed vertical takeoff and landing (VTOL) aircraft, according to Boeing.
"In one year, we have progressed from a conceptual design to a flying prototype," says Boeing Chief Technology Officer Greg Hyslop.
"Boeing's expertise and innovation have been critical in developing aviation as the world's safest and most efficient form of transportation, and we will continue to lead with a safe, innovative and responsible approach to new mobility solutions."
The leader of Boeing's urban air mobility efforts, Boeing NeXt, utilized Aurora Flight Sciences for the design and development of the electric VTOL (eVTOL) aircraft. The vehicle will continue to be tested to advance the safety and reliability of on-demand autonomous air transportation.
"Boeing was there when the aviation industry was born and in our second century, we will unlock the potential of the urban air mobility market," comments Steve Nordlund, vice president and general manager of Boeing NeXt.
"From building air vehicles to airspace integration, we will usher in a future of safe, low-stress mobility in cities and regions around the world."
The PAV prototype is powered by an electric propulsion system, and is designed for fully autonomous flight from takeoff to landing. Boasting a range of up to 50 miles, the PAV prototype features an advanced airframe that integrates the propulsion and wing systems to achieve efficient hover and forward flight.
Texas Department of Transportation to create Connected and Autonomous Vehicle Task Force
The Texas Department of Transportation (TxDOT) has announced plans to create a Connected and Autonomous Vehicle (CAV) Task Force, which will serve as a central point for CAV advancement in Texas.
The task force will serve as a one-stop resource for information and coordination on all ongoing CAV projects, investments and initiatives in Texas. It will also be used to document the efforts of both public and private entities, and help facilitate partnerships.
Along with these responsibilities, the task force will also host industry forums and report lessons learned to enable progress and encourage more collaboration.
"Our goal is to further build on the momentum already established with the Texas Technology Task Force and the Texas Innovation Alliance, and work with interested parties on the latest and greatest in CAV projects and enhancements," says TxDOT Executive Director James Bass.
"We look forward to furthering these important efforts as connected and autonomous vehicles become reality."
TxDOT believes that there are a number of benefits that autonomous vehicles can provide, including their potential to greatly reduce crashes and improve roadway safety over time. The department also believes that this technology can serve as a mobility option for the elderly and people with disabilities, who often have to rely on others to transport them so that they can access health care and routine appointments.
TxDOT says that the task force will continue to allow companies to pursue innovative ideas around CAV technology in a business-friendly way. The task force is also expected to build on legislation passed by the 85th Legislature related to how connected and autonomous vehicles can operate in the state.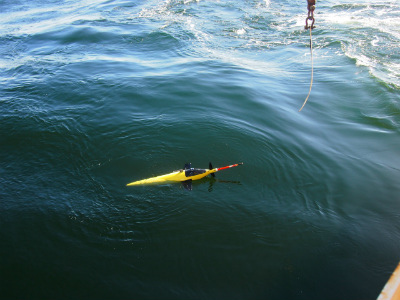 Autonomous ocean robots spend year traveling under ice sheet and reporting long-term observations
Over the last year, a team of autonomous ocean robots has successfully traveled under an ice sheet and returned to report long-term observations, the University of Washington (UW) has announced.
A partnership between a number of entities including the University of Washington's College of the Environment, the UW Applied Physics Laboratory, the Lamont-Doherty Earth Observatory of Columbia University, the Korean Polar Research Institute and Paul G. Allen Family Foundation, the robotic mission has traveled under the ice shelf 18 times, and has routinely reached more than 25 miles into the cavity.
"This is the first time any of the modern, long-endurance platforms have made sustained measurements under an ice shelf," says Craig Lee, a UW professor of oceanography and member of the Applied Physics Laboratory.
"We made extensive measurements inside the cavity. Gliders were able to navigate at will to survey the cavity interior, while floats rode ocean currents to access the cavity interior."
The project not only looks to showcase this technology, but also gather more data from the underside of ice shelves that are buttressing the much larger ice sheets.
Additionally, being able to directly observe how warmer seawater interacts with the underside of ice shelves provides the opportunity to improve models of ice sheet dynamics in Antarctica and Greenland, which hold the biggest unknowns for global sea level rise, according to UW.
"Some ice sheets terminate in large ice shelves that float out over the ocean, and those act as a buttress. If the ice shelves collapse or weaken, due to oceanic melting, for example, the ice sheets behind them may accelerate toward the sea, increasing the rate of sea level rise," Lee explains.
In late 2017 when this mission began, the goal was to test a new approach for gathering data under an ice shelf. On Jan. 24, 2018, devices were dropped from the Korean icebreaker R/V Araon, and this week, two Seaglider AUVs reached the milestone of one year of continuous operation around and under the ice shelf.
Similar missions of this kind have been done before, as in 2009, 2014 and 2018, robot submarines Autosub3 and Boaty McBoatface—operated by the British Antarctic Survey—successfully completed 24- to 48-hour voyages. While these missions surveyed similar distances into the cavity, the samples were over shorter periods due to the need for a ship support.
Conversely, the UW-led team's technology features smaller, lighter devices that can operate on their own for more than a year without any ship support. The team notes that its experimental technique first moored three acoustic beacons to the seafloor to allow navigation under the ice shelf. Then, three Seagliders were sent to use preprogrammed navigation systems to travel under the ice shelf to collect data.
During the mission, four UW-developed EM-APEX floating instruments were also deployed. The instruments can drift with the currents at preselected depths above the bottom, or below the top of the cavity, while periodically bobbing up and down to collect more data.
All four of the instruments successfully traveled deep under the ice shelf with the heavier, saltier water near the seafloor. Three were flushed out with fresh meltwater near the top of the ice cavity about six to eight weeks later, while the remaining one recently reappeared on Jan. 5.
The fleet of robots reached a number of milestones over the last year during their deployment, including: a Seaglider reached a maximum distance of 31 miles from the edge beneath Dotson Ice Shelf in West Antarctica; the Seagliders made 30 surveys along the face of the ice shelf; and, after one year, two out of three Seagliders are reporting back.
Researchers are now analyzing the data for future publication, so that they can have a better understanding of how seawater interacts with the ice shelves and improve models of ice sheet behavior.
Share your vision-related news by contacting Dennis Scimeca,Associate Editor, Vision Systems Design

To receive news like this in your inbox, click here.
Join our LinkedIn group | Like us on Facebook | Follow us on Twitter