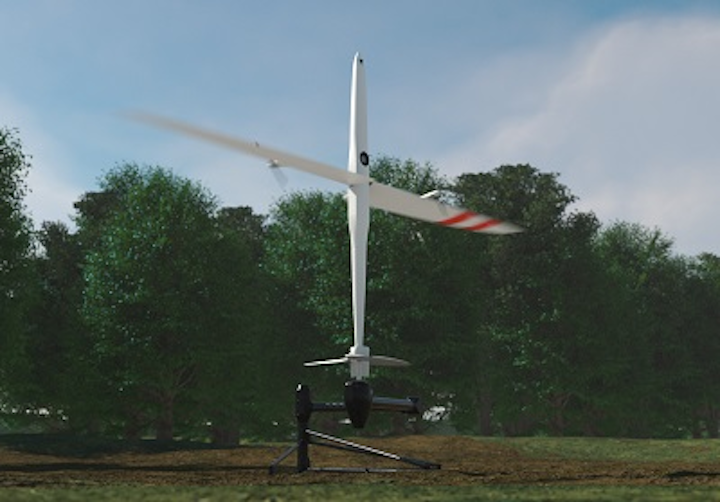 On display in the startup showdown area of XPONENTIAL 2017 will be the Halo unmanned aerial vehicle (UAV), which features a hybrid fixed-wing/rotary-wing design that enables it to hover to extended periods of time, allowing close-up inspections, even in remote locations. On the UAV is a high-resolution, downward facing camera for mapping and a lower-resolution, forward facing camera for video link. The company also has plans for a vision system that will provide a 360° panorama. The UAV itself has a 7.8 ft. wingspan and a 5.9 ft. length and weighs 4.4 lbs. Able to hover for 1.5 hours of fly forward for 2.5 hours, the Halo UAV is a vertical takeoff and landing model with a large rotor disk area that enables the hovering thrust efficiency to increase with the area of the rotor generating the thrust.
XPONENTIAL 2017 booth number: 3430-P
To Learn More:
Contact: Iridium Dynamics
Headquarters: Brisbane, Queensland, Australia
Product: Halo unmanned aerial vehicle
Key Features: Hybrid fixed-wing/rotary-wing design, forward facing camera, downward facing camera, autopilot software.

What Iridium Dynamics says:
View more information on the Halo.

View More Products| Locate a vendor or system integrator | Receive e-mail updates
Share new products that you think are particularly interesting or helpful by contacting James Carroll, Senior Web Editor, Vision Systems Design.
Join our LinkedIn group | Like us on Facebook | Follow us on Twitter
Learn more: search the Vision Systems Design Buyer's Guide for companies, new products, press releases, and videos