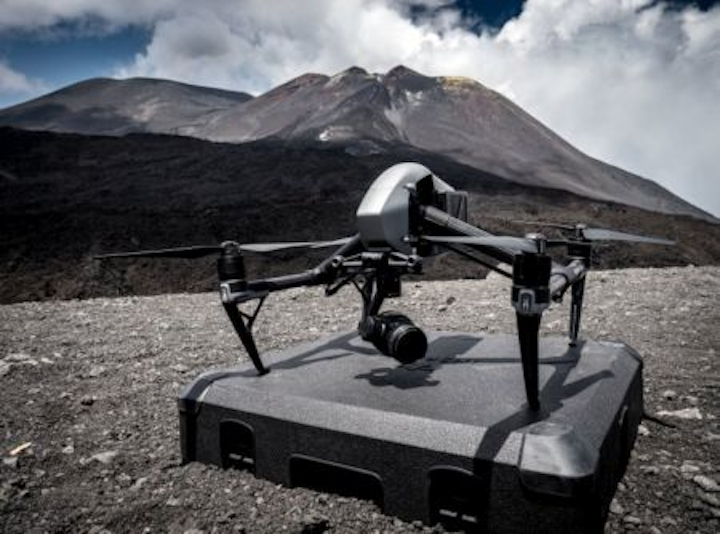 A team of researchers from the University of Mainz in Germany used a pair of drones—one of which was equipped with an infrared camera—to collect samples of gas from inside Italy's Mount Etna volcano.
First, an Inspire 1 drone from DJI was fitted with a Zenmuse XT thermal imaging camera to monitor temperatures and capture thermal footage. The Zenmuse XT is an infrared camera developed by FLIR that is available in either 640 x 512 or 336 x 246 uncooled microbolometer arrays that features a 17 µm pixel pitch and a spectral band of 7.5 to 13.5 µm. A second drone, a Matrice 600 Pro from DJI, was fitted with a multi-gas measurement box to analyze gas composition and volcano deformation.
Mount Etna erupts regularly, most recently in March of 2017, injuring 10 people Prior to this, there were eruptions through 2011 and 2012, and their ash columns forced the closure of local Catania airport on numerous occasions. In July 2011, lava endangered a tourist hub on the side of the volcano, before it was successfully diverted. Eruptions can last for months at a time, with one spanning over 400 days between 2008 and 2009, according to International Business Times.
Over the course of six days, the drones were flown into the volcano craters to learn more about them. In doing so, the researchers found that Sulphur concentrations are much higher near vents. Additionally, the drones could capture solids which formed due to Sulphur reacting in the atmosphere with water, helping scientists to better understand the chemical evolution of volcanic gas plumes. Using this information, the team aims to develop improved plans for the evacuation of residents should an eruption be expected.
"With thousands of people living in the vicinity of volcanoes, we wanted to better understand how they behave," said Professor Jonathan Castro of the University of Mainz. "Mount Etna has a long and frequent history of lava forming and eruptions. It's a perfect natural laboratory, but we need to analyze more thoroughly to protect the population in the area."
Castro added: "The academic world is reacting positively and more institutions around the world are relying on drones in their quest to predict eruptions. This brings us a step closer to potentially saving thousands of lives."
View theInternational Business Times article.
View more information on DJI.
Share your vision-related news by contacting James Carroll, Senior Web Editor, Vision Systems Design

To receive news like this in your inbox, click here.
Join our LinkedIn group | Like us on Facebook | Follow us on Twitter