This week's roundup from the Association for Unmanned Vehicle Systems International (AUVSI), which highlights some of the latest news and headlines in unmanned vehicles and robotics, covers the United States Air Force's first female enlisted drone pilot, a new unmanned aerial system (UAS) program from Farmers Insurance, a drone that placed a GPS tracker on an iceberg, and an offshore drone survey.
US Air Force has first female enlisted drone pilot
Tech. Sgt. Courtney has become the United States Air Force's first female enlisted Global Hawk UAS pilot, after completing her undergraduate remotely piloted aircraft (RPA) training program on August 4 at Joint Base San Antonio-Randolph, Texas. Courtney was one of four pilots graduating that day.
At the start of her intelligence career, Courtney served as an imagery analyst and a sensor operator for the MQ-1 Predator. During RPA training, as well as in a live, ground station scenario, sensor operators often sit in the right seat. Now, Courtney will transition to the left seat.
"I've been sitting in the right seat for a long time, so now I'm ready to sit in the left seat," Courtney says via Military.com.
As Courtney prepares to take on her new role as a pilot, she is cognizant of the significance of being the first female enlisted Global Hawk UAS pilot.
"It's great to fill that role as the first female," Courtney says. "It's awesome and humbling, but our units don't care if you're male or female, they just want you to be a good pilot."
Farmers Insurance launches UAS program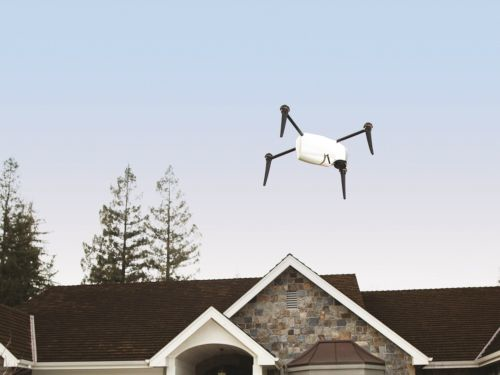 In an effort to "enhance the claims experience for customers who have suffered significant damage to their roof following major weather events," Farmers Insurance has announced that it is launching a UAS program.
Farmers conducted field tests to examine the "most effective and customer-centric ways" of utilizing UAS technology with its existing claims operation. Now, the company will expand its use of the technology to help with residential property damage assessments, as it seeks to provide a more enhanced experience for its customers.
"Farmers investments in technology and innovation are driven by our commitment to deliver a better experience for our customers at every point of engagement," says Keith Daly, chief claims officer for Farmers Insurance.
"We believe our new drone program will help improve response time and safety for our claim representatives during their evaluations, and ensure Farmers maintains a leadership position in the insurance industry."
To start, the UAS will be used in areas most impacted by hailstorms and other severe weather events.
California-based Kespry will provide the initial squadron of UAS to Farmers. Kespry's aerial intelligence platforms are designed especially for use in industrial sectors such as insurance.
Using Kespry's UAS, Farmers will be able to accomplish a variety of tasks more quickly and safely, such as collecting rooftop imagery and data, supplementing ladder assist capabilities, and generating analytic reports.
The UAS will provide high-resolution, 3D imagery, with the ability to detect granule loss, as well as other physical damage data of residential roofs.
Farmers says that it will ultimately be able to resolve more claims with greater efficiency and accuracy, as its claim representatives will have access to "comprehensive roof dimensions and automated damage detection, with onsite availability of rooftop imagery made possible in just minutes."
The Farmers UAS program will be unique because of its "exclusive use of Farmers claims professionals throughout the claim handling process," which differs from other carriers who might utilize third-party UAS pilots as a part of the evaluation process.
The Farmers UAS program will provide its customers with a full Farmers experience throughout the process, as Farmers will use its own FAA-licensed UAS operators, who are also Farmers-trained claim representatives.
RPM Aerial Services uses UAS to place GPS tracker on iceberg
In an effort to find a way to safely place a tracker on an iceberg without getting too close to what can often be "unpredictable masses of floating ice," Holyrood, Newfoundland and Labrador-based RPM Aerial Services, along with a GPS manufacturer in Nova Scotia, recently used a UAS to place a GPS tracker on an iceberg.
The iceberg was about two kilometers outside Petty Harbour, which is another town in Newfoundland and Labrador, Canada.
According to Brian Lundrigan, who started RPM Aerial Services, which is a remotely piloted aerial service company, this pilot project was far from easy.
"It was fairly challenging," Lundrigan says via CBC News.
"The biggest difficulty was depth perception when you're a distance away from the iceberg, trying to see how close you are."
Lundrigan operated the UAS from a boat about 100 meters away from the iceberg, and the UAS was flown with the 800-gram tracker dangling from a 15-meter rope.
The tracking unit had to be carefully placed on the iceberg, being that operators can't drop anything from UAS because of federal regulations.
"Traditionally GPS trackers have been put on icebergs by other means," Lundrigan adds. "We believe UAV [unmanned aerial vehicle] technology could be used to do this cost-effectively and safely."
Lundrigan used a 3D printer to create a "custom carrier for the tracking unit," which was attached to the UAS by a rope.
After placing the tracker on the iceberg, the next challenge was keeping it on the slippery surface of ice. To address this issue, spikes were added to the carrier, and it was designed to roll so that they would know when it came off the iceberg.
The tracking unit stayed on the iceberg for 12 hours before slipping off.
DNV GL conducts first offshore UAS survey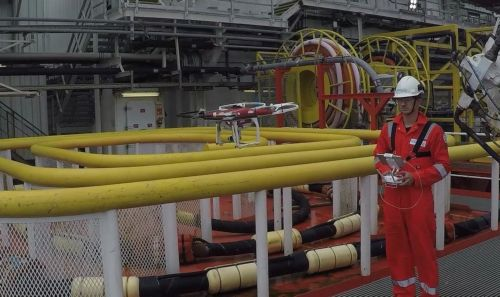 DNV GL surveyors have conducted the classification society'sfirst offshore UAS survey.
The survey was conducted in the North Sea, on the semisubmersible vessel Safe Scandinavia, which supports Statoil's drilling operations off the coast of Norway.
As a part of the intermediate survey, DNV GL's UAS pilots checked Safe Scandinavia's fairleads and their connection with the vessel's two columns.
"This was a great opportunity for us to demonstrate our drones' abilities to check the condition of remote external components in challenging offshore conditions," says Cezary Galinski, Project Manager Classification Poland at DNV GL.
"The inspection only required the semi-submersible to de-ballast, then we flew the drone approximately 25 meters below the main deck to check the condition of the fairleads and their connections to the columns that hold up the TSV. With wind speeds of approximately 15 knots, this went very well and the survey showed that the fairleads and their connections were in a good condition."
Safe Scandinavia is a tender support vessel (TSV) that is owned and operated by Prosafe, the world's leading owner/operator of semi-submersible accommodation vessels.
Ian Young, Chief Operating Officer at Prosafe, says, "we are very pleased that we chose to try the drone survey, as it helped us optimize our survey requirements and allowed us to save significant amounts of time and money."
"Normally, this kind of operation would cause disruption to our client for several days. The drone survey took only a few hours and was just as effective."
The classification society has conducted several UAS surveys on both ships and offshore units. During these surveys, it has inspected various areas on board including tanks and cargo holds, as well as external structures like jack-up legs.
Inspecting spaces such as these can be costly, time consuming, and in some cases, dangerous, but using UAS to visually check the condition of remote structural components can reduce staging costs and survey times, and improve surveyor safety as well.
View more information on the AUVSI.
Share your vision-related news by contacting James Carroll, Senior Web Editor, Vision Systems Design

To receive news like this in your inbox, click here.
Join our LinkedIn group | Like us on Facebook | Follow us on Twitter