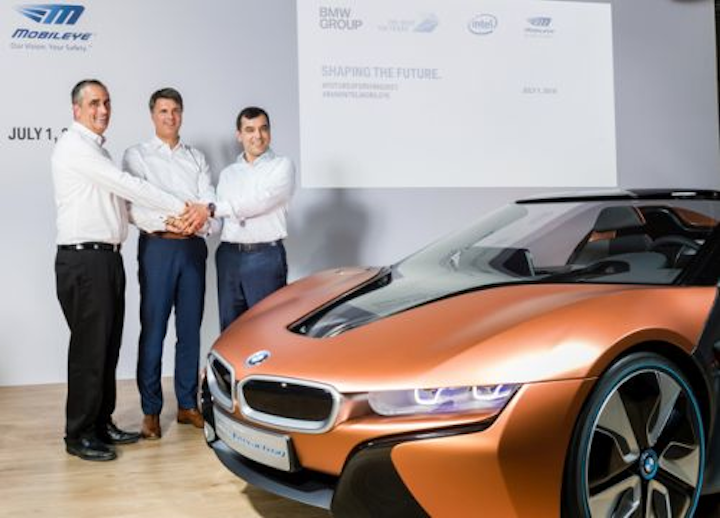 Following the completion of its tender offer for outstanding shares of advanced driver assistance and autonomous driving software company Mobileye, Intelhas announced that it will start building a fleet of fully autonomous (level 4 SAE) vehicles for testing in the United States, Israel, and Europe.
The first vehicles, according to Intel, will be deployed later this year, and the fleet will eventually scale to more than 100 vehicles.
"Building cars and testing them in real-world conditions provides immediate feedback and will accelerate delivery of technologies and solutions for highly and fully autonomous vehicles," said Amnon Shashua, soon-to-be senior vice president of Intel Corporation and future CEO/CTO of Mobileye. "Geographic diversity is very important as different regions have very diverse driving styles as well as different road conditions and signage. Our goal is to develop autonomous vehicle technology that can be deployed anywhere, which means we need to test and train the vehicles in varying locations."
These test vehicles will combine proprietary capabilities from Mobileye including computer vision, sensing, fusion, mapping and driving policy along with Intel's open-compute platforms and expertise in data center and 5G communication technologies to deliver a complete "car-to-cloud" system. The forthcoming fleet will include multiple car brands and vehicle types to demonstrate the technology's agnostic nature.
"Delivering 100 test cars very quickly will demonstrate how this hybrid system can be adapted to meet customer needs," Shashua said. "Neither company could do this alone. Given resident skill-sets within the two companies, a standalone fleet of test vehicles is possible almost immediately."
This deal further solidifies Intel's future in autonomous vehicles and its commitment to bringing the technology to the public. In 2016, Intel and Mobileye, along with the BMW Group, announced a partnership to bring autonomous vehicles into series production by 2021. Then on May 16 of this year, the collaborative group announced that it will add Delphi as a development partner and system integrator for their autonomous driving platform.
The group of companies represent leaders in automotive, technology, computer vision, and machine learning, and share the opinion that automated driving technologies will make travel safer and easier. The four partners, according to Intel, intend to jointly deploy a cooperation model to deliver and scale the developed solutions to the broader OEM automotive industry, and potentially other industries.
"The partnership between BMW, Intel and Mobileye continues to break new ground in the auto industry," said Intel CEO Brian Krzanich. "In less than one year the joint teams have made substantial progress to deliver a scalable platform for autonomous driving and are on path to deliver 40 pilot cars in second half of this year. Adding Delphi as an integration partner will help to accelerate the introduction of autonomous cars on the streets from multiple carmakers and offer differentiation to customers."
Pictured: Intel CEO Brian Krzanich, Chairman of the Board of Management of BMW AG Harald Krüger and Mobileye Co-Founder, Chairman and CTO Professor Amnon Shashua.
View more information on Intel's focus on autonomous driving.
Share your vision-related news by contacting James Carroll, Senior Web Editor, Vision Systems Design

To receive news like this in your inbox, click here.
Join our LinkedIn group | Like us on Facebook | Follow us on Twitter