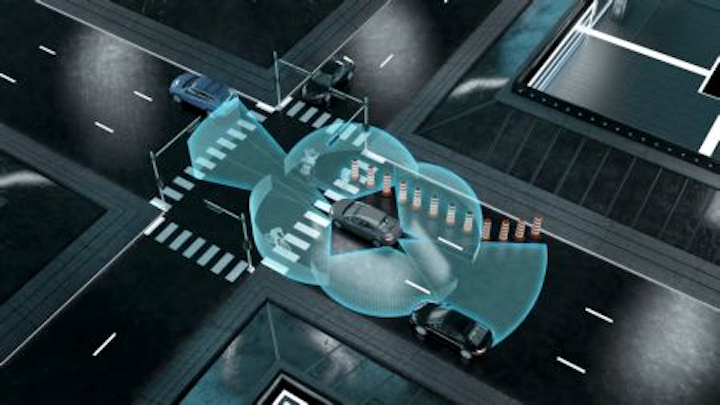 LeddarTech Inc.—a Canadian company developing LiDARfor autonomous vehicles—has received $101 million in Series C financing led by Osram and including Delphi, Magneti Marelli and Integrated Device Technology, Inc. as strategic investors, as well as Fonds de Solidarité FTQ.
This funding—which is the largest capital raise to date—will enable LeddarTech to enhance its application-specific integrated circuit development efforts, expand its research and development team, and accelerate ongoing LiDAR development programs with select Tier-1 automotive customers for rapid market deployment, according to the company.
Charles Boulanger, LeddarTech CEO, commented on how thrilled they are as a company to welcome such an "influential group of companies as strategic investors, with whom we share a common goal of making mobility safer and more efficient."
"Their strong endorsement is a testament to the maturity of the Leddar technology and the credibility of our product roadmap to support the ongoing development of autonomous driving," he said. This positions LeddarTech as the definitive reference in solid-state LiDAR and validates our Tier-1 partnership business model to rapidly deploy LiDARs on a commercial scale in automotive applications. We believe this announcement represents a major stepping stone towards achieving market-share leadership in the multibillion-dollar automotive LiDAR market by 2020," added Mr. Boulanger.
LeddarTech developers automotive-grade, solid-state LiDAR products that stems from more than a decade of R&D, and has been optimized through multiple deployments in different applications. The LiDAR is packaged into LeddarCore integrated circuits (ICs) and standard microcontrollers, and Leddar's light wave digital signal processing and software algorithms generate significantly higher sensitivity than other LiDAR methods, according to LeddarTech.
Furthermore, LeddarTech claims that this enhanced sensitivity allows LeddarTech to achieve the automotive industry's targeted performance levels, using more affordable and readily-available components, as well as simple sensor designs with no moving parts. The company works closely with Tier-1 automotive suppliers to offer customized LiDAR solutions that meet the unique requirements of each current or prospective OEM, fleet and mobility service provider customer.
Glen De Vos, Delphi Automotive senior vice president and chief technology officer, commented on working with LeddarTech: "Delphi aims to be at the forefront of autonomous driving developments and LiDAR is a key component thereof" he said. "We are delighted to partner with LeddarTech to leverage its innovative and proprietary signal processing technology to rapidly commercialize low-cost, high-performing LiDARs."
One of the key factors in the adoption of LeddarTech technology, as well as the significant investments by large companies could be the cost of the LiDAR product. Existing LiDAR products have price tags in the thousands, whereas LeddarTech's has a product in prototype comes in under $100. This product—which is developed only for autonomous vehicles—comes in 2D and 3D versions of solid-state LiDAR, with the mass-volume price of the 3D product coming in around $100 and the 2D product between $50 and $100. This funding will help bring this product to market, according to the company.
Automotive manufacturers are much more likely to consider using LiDAR in future models when the cost associated will not have major impact on overall margins. With prices such as these, the market is more competitive, so perhaps we will see LiDAR being deployed more often in the near future.
View more information on LeddarTech.
Share your vision-related news by contacting James Carroll, Senior Web Editor, Vision Systems Design

To receive news like this in your inbox, click here.
Join our LinkedIn group | Like us on Facebook | Follow us on Twitter