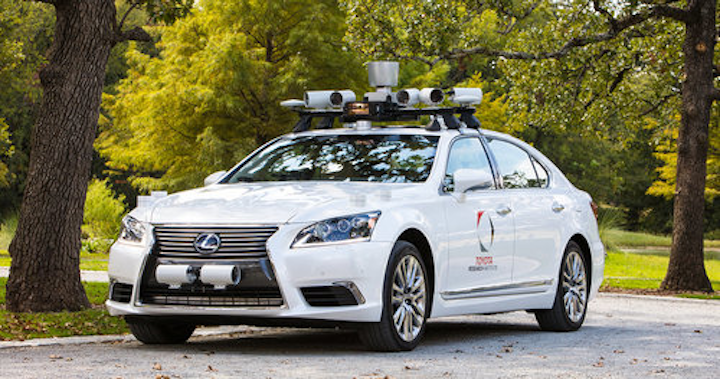 Toyota Research Institute(TRI) offered the first public demonstration of its Platform 2.1 autonomous vehicle test platform, which enables research and development of its Guardian and Chauffeur automated driving platforms.
This demonstration comes just months after committing to an initial investment of $100 millionto launch Toyota AI Ventures, a new corporate venture capital subsidiary designed to provide early-stage financing to startup technology companies involved in such technologies as artificial intelligence (AI), robotics, autonomous driving, and data and cloud technology.
"In the last few months, we have rapidly accelerated our pace in advancing Toyota's automated driving capabilities with a vision of saving lives, expanding access to mobility, and making driving more fun and convenient," said Dr. Gill Pratt, CEO of TRI. "Our research teams have also been evolving machine intelligence that can support further development of robots for in-home support of people."
Platform 2.1 (pictured) builds on the Platform 2.0 research vehicle, which was released in March 2017. The vehicle was shown on a closed-course and features a new LIDAR system from Luminar, which provides a longer-sensing range, a much denser point cloud, and a field of view that is the first to be dynamically configurable, which means that measurement points can be concentrated where sensing is needed most, according to TRI. In addition, TRI created a second vehicle control cockpit on the front passenger side with a fully operational drive-by-wire steering wheel and pedals for acceleration and braking, which allows the research team to probe effective methods of transferring vehicle control between the human driver and the autonomous system in a range of challenging scenarios. It also helps with development of machine learning algorithms that can learn from expert human drivers and provide coaching to novice drivers.
Additionally, TRI has designed a unified approach to showing the various states of autonomy in the vehicle, using a consistent user interface across screens, colored lights and a tonal language that is tied into Guardian and Chauffeur. Guardian is TRI's platform in which the human driver maintains vehicle control and the automated driving system operates in parallel, whereas Chauffeur is Toyota's version of SAE Level 4/5 autonomy where all vehicle occupants are passengers. Both platforms use the same technology stock of sensors and cameras. Multiple test scenarios to demonstrate TRI's advances in both applications were performed during the demo.
Announced in parallel with this demonstration were some updates on TRI's role in robotics and artificial intelligence, where the company is reportedly making advances. TRI noted in a press release that it has pioneered new tools to give future robots enhanced, human-like dexterity in order to grasp and manipulate objects so that they are not dropped or damaged. The institute is also applying computer vision and artificial intelligence to robot development allowing robots to detect the physical presence of humans and objects, note their locations, and retrieve objects for humans when prompted.
Furthermore, TRI is pursuing new concepts for applying artificial intelligence inside a vehicle cabin to keep occupants comfortable, safe, and satisfied. The institute stated that it has created a simulator showing an in-car AI agent that can detect a driver's skeletal pose, head and gaze position and emotion to anticipate needs or potential driving impairments.
View the TRI release.
Share your vision-related news by contacting James Carroll, Senior Web Editor, Vision Systems Design

To receive news like this in your inbox, click here.
Join our LinkedIn group | Like us on Facebook | Follow us on Twitter