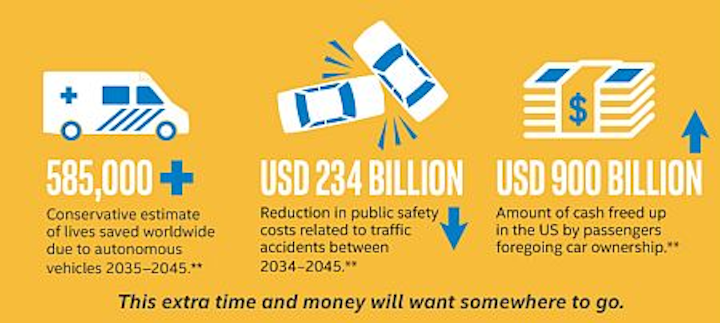 A new report sponsored by Inteland prepared by analyst firm Strategy Analytics predicts that the economic landscape created by autonomous driving will grow from $800 billion in 2035 to $7 trillion by 2050.
"Accelerating the Future: The Economic Impact of the Emerging Passenger Economy," looks at the yet-to-be-realized economic potential when today's drivers become idle passengers. This new opportunity—which Intel calls the "Passenger Economy"—will be realized through autonomous driving and smart city technologies, which will lead to the reconfiguring of entire industries while inventing new ones thanks to the time and cognitive surplus it will unlock, per Intel.
"Companies should start thinking about their autonomous strategy now," said Intel CEO Brian Krzanich. "Less than a decade ago, no one was talking about the potential of a soon-to-emerge app or sharing economy because no one saw it coming. This is why we started the conversation around the Passenger Economy early, to wake people up to the opportunity streams that will emerge when cars become the most powerful mobile data generating devices we use and people swap driving for riding."
The report looks at both consumer and business economic opportunities and begins to build use cases designed to enable decision-makers to develop actionable change strategies, according to Intel.
"Autonomous technology will drive change across a range of industries and define a new landscape, the first green shoots of which will appear in the business-to-business sector," said study co-author Harvey Cohen, president, Strategy Analytics. "The emergence of pilotless vehicle options will first appear in developed markets and will reinvent the package delivery and long-haul transportation sectors. This will relieve driver shortages around the world and account for two-thirds of initial projected revenues."
In a report like this, there are bound to be several bold predictions, but a few stuck out to me. One such prognostication is that "Conservatively, 585,000 lives can be saved due to self-driving vehicles in the era of the Passenger Economy from 2035 to 2045." The report states that in terms of traffic fatalities, the potential impact of driverless cars "speaks for itself," and that approximately 1.3 million people die in car accidents per year around the world.
"Poorly maintained roads and a lack of traffic safety resources are the major drivers. Ninety-four percent of all accidents are due to human error. If we conservatively assume that just 5 percent of these accidents are avoided in the decade from 2035 to 2045 due to pilotless vehicles, 585,000 lives will be saved during that time," the report states.
While it is safe to assume that these numbers do add up, it is hard to imagine what the roads would look like full of driverless cars. There have already been accidents, even a death, involving the vehicles. Will the roads be safer, or maybe more importantly, will people feel safer? One topic to consider is the ability of a human to make split second decisions while driving. For example, when the sensors and algorithms equipped on a driverless car decide that crashing into a telephone pole or wall to avoid a pedestrian in the car's field of view is the prudent move, suddenly that 585,000 number may mean a bit less to you.
That said, the report is clear about its timeline for this new economic opportunity being 2035 – 2050, and to say that the advancements in technology—including numerous sensors, latency, and algorithms and software— between now and then will be vast would be an understatement. So, if we can indeed save lives, create new jobs and bolster the economy, improve and reconfigure our cities, ease traffic, and so on; then everyone should be all in.
View thereport.
View anIntel infographic.
View anIntel press release.
Share your vision-related news by contacting James Carroll, Senior Web Editor, Vision Systems Design

To receive news like this in your inbox, click here.
Join our LinkedIn group | Like us on Facebook | Follow us on Twitter
Learn more: search the Vision Systems Design Buyer's Guide for companies, new products, press releases, and videos