This week's article from the Association for Unmanned Vehicle Systems International (AUVSI), which highlights some of the latest news and headlines in unmanned vehicles and robotics, covers a UAS used to detect mines, a new DARPA-funded UAS that BAE Systems will develop for battlefield situations and mission needs, and a beyond visual line of sight drone used for pipeline inspection.
Navy tests Mine Warfare Rapid Assessment Capability system that uses UAS to detect buried and submerged mines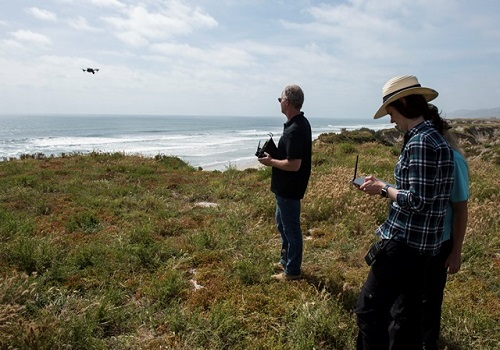 A recent technology demonstration at Marine Corps Base Camp Pendleton tested the new Mine Warfare Rapid Assessment Capability (MIW RAC) system, which is a portable, remote-controlled system that uses a UAS to detect buried and submerged mines.
MIW RAC, which is sponsored by the Office of Naval Research's (ONR) TechSolutions program, includes a tablet device, and a one-pound quadcopter UAS, which is equipped with "an ultra-sensitive magnetometer sensor system," that allows the UAS to detect mines, and provide real-time search data to a handheld Android device.
MIW RAC also includes its "proprietary magnetometer sensor suite," which not only has an extensive detection range, but it can also differentiate between several types of objects thanks to using complex algorithms.
According to ONR Command Master Chief Matt Matteson, this system could be a huge help to military personnel in the field.
"This technology will help Sailors and Marines who are approaching a beachfront to rapidly clear, or at least determine the location of, mines or other hazards that are in their way," Matteson says. "It could potentially save a lot of lives."
The demonstration was conducted by Dr. Rosemarie Oelrich, a scientist at Naval Surface Warfare Center (NSWC) Carderock's Combatant Craft Division, and Dr. Cory Stephanson, president and chief executive officer of Broadband Discovery Systems (BDS).
Oelrich is overseeing the development of MIW RAC.
BAE Systems to develop new technology for UAS under contracts with DARPA
Under two contracts with the Defense Advanced Research Projects Agency (DARPA), which have a combined worth of $5.4 million, engineers from BAE Systems will develop technology that gives compact UAS the ability to conduct multiple mission tasks with "single, multifunction payloads that can adapt to changing battlefield situations and mission needs in real-time."
DARPA's CONverged Collaborative Elements for RF Task Operations (CONCERTO) program will be affected by the technology. The CONCERTO program focuses on supporting communications, radar, and electronic systems (EW) systems, with a "flexible radio-frequency (RF) architecture that uses shared common hardware, enabling multifunction systems that meet the low-SWaP [size, weight, and power] requirements of compact UAS."
Eliminating the need for physical payload changes, the converged systems will be able to switch between "intelligence, surveillance, and reconnaissance; command and control; networking; and combat operations support missions."
Randall Lapierre, technology development manager at BAE Systems, says, "this agility is particularly important in denied environments, where multiple mission functions are typically needed to penetrate defenses and remain operational."
Lapierre adds, "by enabling small platform systems to share core components, we're helping them become more agile and stay on station longer."
To ensure that all missions can be accomplished from the same components, engineers from BAE Systems will focus on maximizing the RF capabilities of the hardware. The engineers are also developing a flexible, virtual RF processing engine, which can be refigured to swiftly support operating modes that are diverse and simultaneou
s.Lockheed Martin's Indago UAS performs first BVLOS inspection in Canada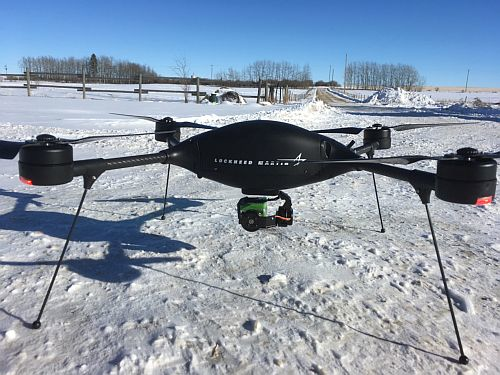 Lockheed Martin's Indago 2 quadrotor UAS has completed its first beyond visual line of sight (BVLOS) pipeline and well assets inspection.
In partnership with Canadian UAVs, the inspection took place at the Foremost Testing Range in Alberta, Canada. According to Lockheed, Indago operators are approved for routine access to Canadian airspace, thanks to the UAS being one of the few unmanned systems deemed Transport Canada Compliant"
"This flight achievement is a bellwether for Canadian UAVs, Lockheed Martin and Foremost Test Range, and showcases the leadership provided by Unmanned Systems Canada and Transport Canada for the safe use of unmanned systems in Canadian airspac"," says John Molberg, business development lead for Lockheed Martin CDL Systems.
The Indago is equipped with a powerful camera, and thanks to the camera's 30x optical zoom and enhanced digital zoom, it is capable of capturing high resolution inspection images and video.
The Indago'" "high quality real-time airborne imaging capabiliti"s" includes Lockheed's new Hydra Fusion Tools, which is the only system to provid" "real-time three-dimensional reconstruction during UAS fligh"." During operations, Hydra Fusion Tools provides situational awareness.
The five-pound Indago UAS has an approximate endurance of 45 minutes.
When operated using its handheld controller, the Indago can achieve ranges of up to five kilometers. Using directional communications devices, that range can be extended past 10 kilometers.
View more information on the AUVSI.
Share your vision-related news by contacting James Carroll, Senior Web Editor, Vision Systems Design

To receive news like this in your inbox, click here.
Join our LinkedIn group | Like us on Facebook | Follow us on Twitter
Learn more: search the Vision Systems Design Buyer's Guide for companies, new products, press releases, and videos