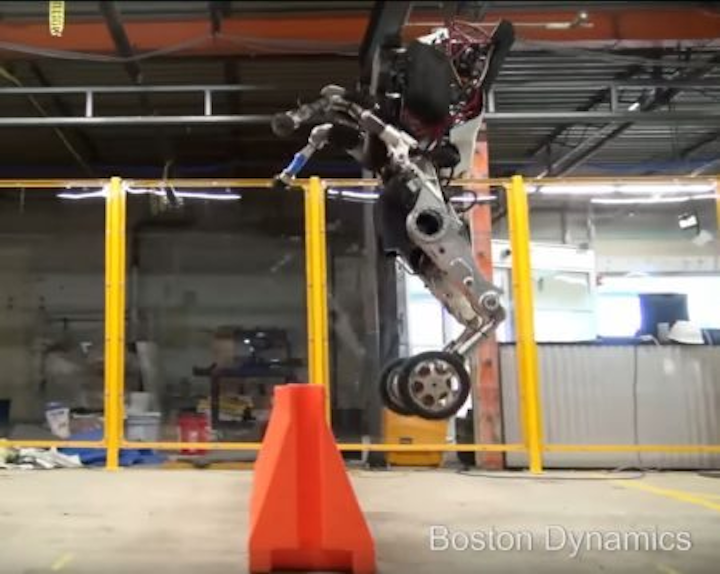 Google-owner Alphabet Inc. has entered an agreement to sell advanced robotics company Boston Dynamics to SoftBank Group Corp., a global technology and telecommunications company that develops the Pepper humanoid robotalong with Aldebaran Robotics.
Rumors surfacedin March of 2016 that Google (at the time) was looking to sell Boston Dynamics, with likely partners including Toyota Research Institute and Amazon. Per these reports, tensions between Boston Dynamics and Google's other robotics companies were brought into open view during meetings, which may have led to a desire to sell the company. At this point, whether these reports are true does not matter, as the company has been sold to SoftBank.
Masayoshi Son, Chairman & CEO of SoftBank Group Corp., said in a press release, "Today, there are many issues we still cannot solve by ourselves with human capabilities. Smart robotics are going to be a key driver of the next stage of the Information Revolution, and Marc and his team at Boston Dynamics are the clear technology leaders in advanced dynamic robots. I am thrilled to welcome them to the SoftBank family and look forward to supporting them as they continue to advance the field of robotics and explore applications that can help make life easier, safer and more fulfilling."
With the acquisition, SoftBank increases its presence in humanoid robotics, as the company already has the Pepper humanoid robot as part of its product portfolio. Pepper is designed to help people grow, enhance their life, facilitate relationships, and connect them with the outside world. One such example is when Pepper was used in Asia to take orders and greet customers at Pizza Hut.
The vision-guided robot's head is equipped with four microphones, two HD RGB cameras (in the mouth and forehead) and a 3D camera behind the eyes. It also has a gyroscope in the torso and touch sensors in the head and heads. Pepper's mobile base has two sonars, six lasers, three bumper sensors, and a gyro. Images are processed by shape recognition software capable of identifying faces and objects.
Boston Dynamics' robots are a bit less friendly, and maybe even a bit scarier, according to some.One example is the latest robot from Boston Dynamics, which features both legs and wheels, called "Handle," which is pictured above. When the robot was unveiled at a January 31 presentation, company founder Marc Raibert commented:
"Everybody thinks we only do legged robots, so no one has seen this, you are the first," he told the crowd. "This is the debut presentation of what I think will be a nightmare-inducing robot, if you're anything like me."
Boston Dynamics called the robot "Handle" because it is supposed to be able to handle objects. In a video, the robot can be seen picking up a milk crate, and it indicates that the robot has a maximum payload of 100 lbs. Handle is 6.5 ft. tall, can jump 4 ft., and travels at speeds of up to 9 mph. Handle uses electric power to operate both electric and hydraulic actuators, with a range of about 15 miles on one battery charge, according to Boston Dynamics.
Raibert also commented on the deal: "We at Boston Dynamics are excited to be part of SoftBank's bold vision and its position creating the next technology revolution, and we share SoftBank's belief that advances in technology should be for the benefit of humanity. We look forward to working with SoftBank in our mission to push the boundaries of what advanced robots can do and to create useful applications in a smarter and more connected world."
In addition to the deal for Boston Dynamics, SoftBank has agreed to acquire Japanese bipedal robotics company, Schaft, which Google acquired back in 2013.
Terms of either deal were not disclosed.
Share your vision-related news by contacting James Carroll, Senior Web Editor, Vision Systems Design

To receive news like this in your inbox, click here.
Join our LinkedIn group | Like us on Facebook | Follow us on Twitter
Learn more: search the Vision Systems Design Buyer's Guide for companies, new products, press releases, and videos