In this week's roundup from the Association for Unmanned Vehicle Systems International (AUVSI), which highlights some of the latest news and headlines in unmanned vehicles and robotics, learn about a NASA drone race between artificial intelligence and human pilots, the incorporation of UAS into package deliveries by Mercedes-Benz, and UAS that will be deployed for a police force in the UK.
NASA drone race pits artificial intelligence against professional human pilot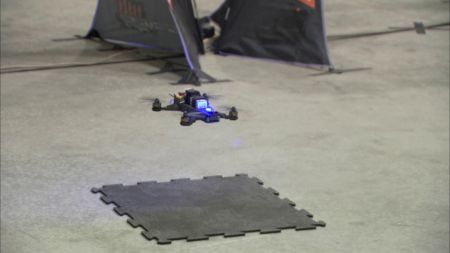 On Oct. 12, researchers at NASA's Jet Propulsion Laboratory (JPL) in Pasadena, California conducted a drone racein which they timed laps through a twisting obstacle course as they raced UAS controlled by artificial intelligence (A.I.) against a world-class drone pilot named Ken Loo.
The race capped off two years of research into UAS autonomy funded by Google. Google was interested in JPL's work with vision-based navigation for spacecraft, which are technologies that can also be utilized by UAS. To showcase the team's progress, a timed trial between JPL's A.I. and Loo was set up.
After building three custom UAS— dubbed Batman, Joker and Nightwing—the JPL team developed the complex algorithms the UAS needed to fly at high speeds while avoiding obstacles. The algorithms were integrated with Google's Tango technology, which JPL also worked on.
Built to racing specifications, the UAS could go as fast as 80 miles per hour (mph) in a straight line. Being that the obstacle course was set up in a JPL warehouse, though, the UAS could only fly at 30 or 40 mph before they needed to use the brakes.
"We pitted our algorithms against a human, who flies a lot more by feel," says Rob Reid of JPL, the project's task manager. "You can actually see that the A.I. flies the drone smoothly around the course, whereas human pilots tend to accelerate aggressively, so their path is jerkier."
In comparison to Loo, the UAS flew more cautiously but consistently. Their algorithms are still a work in progress, as exemplified by the fact that sometimes, they moved so fast that motion blur caused them to lose track of their surroundings.
While able to reach higher speeds, and perform impressive aerial corkscrews, Loo was ultimately limited by exhaustion; an issue that he acknowledged afterwards, and an issue that the A.I.-piloted UAS did not encounter during the trial.
"This is definitely the densest track I've ever flown," Loo says. "One of my faults as a pilot is I get tired easily. When I get mentally fatigued, I start to get lost, even if I've flown the course 10 times."
The A.I. and human pilot started out with similar lap times, but after dozens of laps, Loo learned the course, allowing him to become more creative and nimble. Loo averaged 11.1 seconds for the official laps, while the autonomous UAS averaged 13.9 seconds.
The autonomous UAS were more consistent overall, though, as Loo's times varied more, and the A.I was able to fly the same racing line every lap.
"Our autonomous drones can fly much faster," Reid adds. "One day you might see them racing professionally!
Mercedes-Benz incorporates UAS into package deliveries
Using UAS, Mercedes-Benz completed 100 drop-offs of everyday items to strategically placed vans in Zurich, Switzerland. The flights, which were conducted as a part of a three-week test, were completed with a perfect safety record.
While the UAS didn't make deliveries directly to a customer's doorstep, they did help avoid a lot of the inner-city traffic in Zurich, and saved one journey from the retailer to the logistics center.
Corinna Elosge, who coordinates the last mile logistics vans and drones project for Mercedes' parent Daimler AG, says that the flights were a success.
"Our expectations were all met -- our main goals were about the technical feasibility and execution," Elosge says via Bloomberg. "We're really, really satisfied because we had a perfect safety score."
After customers placed orders with Siroop, a Swiss online shopping platform, and chose "airmail deals" from selected items from retailer Black & Blaze Coffee Roasting Co. for same-day delivery, the UAS flew to four fixed points in the city.
The UAS covered a distance as far as 11 miles to land on the roofs of specially adapted Mercedes-Benz Vito vans, and the vans transported the packages by road for the final stretch.
For Mercedes, UAS are components of a van prototype that features a suite of on-board systems such as digital sorting equipment that could drastically cut costs for the final portion of a parcel's journey.
Mercedes plans to conduct more deliveries using UAS in 2018, but those flights will largely be dependent on regulation, according to Elosge.
"Regulation is a decisive factor for us," Elosge says. "We are working cooperatively with authorities and are ready to engage with them about our experiences because we feel governments do depend on insight from industry as they want to learn more."
COPTRZ to provide UAS for Devon & Cornwall Police and Dorset Police
COPTRZ, which is a full service UAS company, will be the exclusive supplier of UAS and accompanying technologies for the United Kingdom's Devon & Cornwall Police and Dorset Police (the force). This announcement comes after the force announced earlier this year that it will employ full-time UAS pilots and create a dedicated UAS unit.
As a result of this partnership, the force will expand its fleet of UAS technology in the upcoming months, as it plans on purchasing a variety of specialist UAS that are equipped with optical zoom and thermal imaging capabilities.
"We are delighted to be chosen as the exclusive partner of the UK's first dedicated police drone unit," says Steve Coulson, Founder & Managing Director of COPTRZ.
"The demands of the awarded contract were strict, however, due to our unique supplier partnerships we have been able to provide a bespoke solution that will prove to be an excellent asset to Devon & Cornwall Police and Dorset Police."
Following a technical and competitive tender process, COPTRZ was able to recommend a complete UAS platform and accompanying equipment, which includes airframe, batteries, cameras, control systems and ongoing maintenance and warranty support for the duration of the lifespan of each aircraft.
Expected to be fully operational in early 2018, the new UAS—some of which will be equipped with dual camera capabilities, allowing for ground teams to receive both thermal and optical zoom data simultaneously—will primarily be used to search for missing people, for crime scene investigations, and to provide quick responses to major road traffic collisions.
The technology will also be used to help search the forces' 600 miles of coastline.
The investment in this technology comes after 18 months of successful trials across the region. During the trials, the use of UAS reportedly "significantly increased response time and cost-effectiveness of the forces' aerial assets."
View more information on the AUVSI.
Share your vision-related news by contacting James Carroll, Senior Web Editor, Vision Systems Design

To receive news like this in your inbox, click here.
Join our LinkedIn group | Like us on Facebook | Follow us on Twitter