In this week's roundup from the Association for Unmanned Vehicle Systems International (AUVSI), which highlights some of the latest news and headlines in unmanned vehicles and robotics, learn about how Alphabet X's Project Wing is using UAS to deliver food and medicine in Australia, as well as a new vertical takeoff and landing (VTOL) endurance record for a UAS and plans for the installation of a beyond visual line of sight unmanned traffic management test corridor.
Alphabet delivering burritos and medicine via UAS in Australia
In Australia, Alphabet X's Project Wing is using UAS to deliver burritos and medicine to testers living in a rural area, thanks to a partnership with Australia Mexican food chain Guzman y Gomez and pharmacy chain Chemist Warehouse.
For the participants in this test, it usually takes a 40-minute round trip by car for them to get to the nearest grocery store or restaurant, so they are ideal subjects for Wing's experiments.
Project Wing does have a system that can pre-configure routes for UAS, but its UAS rely on on-board sensors to avoid obstacles, which is why they are conducting these tests. More testing of the sensors will make them better prepared at protecting the UAS from collisions.
According to Project Wing Co-Lead James Ryan Burgess, dropping off burritos via UAS will help them "fine tune the logistics of getting food to customers while it's still hot." These deliveries will also help them determine how much time to give restaurants to cook, pack and load food.
In terms of delivering over-the-counter meds, vitamins and other items that can be purchased from drugstores, this will help Project Wing determine the best ways to pack different items and "optimize how many items can be delivered per flight."
"The information we gather from both of these test partners will help us build a system so that merchants of all kinds can focus on what they're good at -- like making food or helping people feel healthier -- rather than being distracted by complex delivery logistics," Burgess says.
Aerovel's unmanned Flexrotor sets VTOL endurance record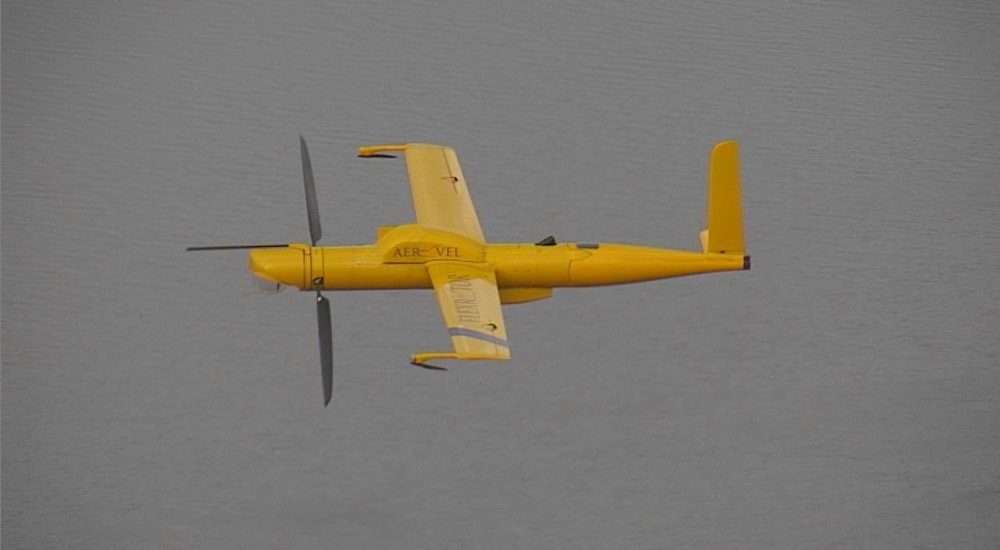 Aerovel has announced that its unmanned Flexrotor, named Actaea, set a VTOL endurance record, as it flew just over 32 hours.
During its flight, Actaea, which is a unique miniature tailsitter, transitioned from hover to wing-borne flight, and conducted its journey through a "showery day, a blustery night, and then another day in the breezy and unsettled air behind a cold front."
The UAS transitioned back to hover as dusk fell, and "dropped gently down onto a 12-foot square helideck underway at 8 kt."
The UAS flew for a total of 32 hours and eight minutes, and had more than three hours' worth of gasoline left in its tank upon landing. When it took off, the UAS had 7.5 kg of fuel onboard.
"The first day was a little turbulent, and after going through the cold front we had 20-30 kt wind and lots of convection," says Tad McGeer, Aerovel's president.
"A sailplane pilot would have used it to good effect, but Actaea was holding constant altitude and so gave up a few percent of range fighting the ups and downs. Performance was otherwise right on expectation."
Aerovel and McGeer have a plethora of experience when it comes to long endurance flights. Back in 1998, his Aerosonde weather-reconnaissance aircraft made the first unmanned transatlantic flight.
​A few years later in 2004, many members of the Aerovel team were present with McGeer when the Scaneagle completed the longest ship-based flight.
According to McGeer though, this latest flight was the longest for any member of the Aerovel team.
"It was 5 hours more than the transatlantic Aerosonde flight, and at a higher speed," McGeer says.
"In fact, as far as we know, no VTOL aircraft has even come close in either time or distance."
The UAS carried a payload of 1.5 kg. McGeer says that most Flexrotors fly with the nose-mounted '05' turret, which comes from their colleagues at Hood Technology.
McGeer adds that during the first day of the 32 hour flight, Aerovel had a second '05' Flexrotor flying formation to take close-ups of Actaea in cruise.
The removable backpack allows for additional load to be carried. Actaea flew a 3 kg backpack fuel tank. Onboard power and Ethernet for supplementary payloads were provided by other backpacks. According to Aerovel, the "onboard Ethernet links into the ground network, and transmits at video rate over distances exceeding 100 km."
Aerovel says that the UAS' small footprint and long range make it ideal for shipboard use.
Some of its applications thus far include guiding a commercial seiner to yellowfin in the midst of the equatorial pacific, as well as a giant anchor-handler to Arctic worksites through the icy labyrinth of the Beaufort.
Near the company's home on the Columbia river, the UAS has also been used to operate from an unmanned 4-metre skiff.
NUAIR Alliance opens evaluation and selection process of vendors for design and installation of Phase II of its BVLOS UTM test corridor
The NUAIR Alliance has opened the evaluation and selection processof vendor(s) for the design and installation of Phase II of its BVLOS Unmanned Traffic Management (UTM) test corridor.
Building off of the recently launched Phase I of the corridor around Griffiss International Airport in Rome, New York, the second phase will complete the corridor, which will facilitate testing of UAS platforms and sensors in the airspace between Rome and Syracuse, New York.
"The development of Phase II of the UTM corridor will build on the successful launch of the first phase of the project, last month," says Central New York Regional Economic Development Council Co-Chairs Robert Simpson, president of CenterState CEO, and Dr. Danielle Laraque-Arena, president of Upstate Medical University.
The request for qualifications (RFQ), which was released on Oct. 13, is the first step in this process. The most qualified respondents to the RFQ will be identified by the NUAIR Alliance, and those respondents will then be asked to submit a formal proposal.
The RFQ period will be open until Nov. 30.
"We are actively seeking partners to help us execute the next phase of this leading BVLOS UTM research and testing corridor," says Larry Brinker, Interim President and CEO of the NUAIR Alliance.
"We are looking for innovative and ambitious companies who can best advance our efforts to make Central New York and the Mohawk Valley a hub of this technology and create industry-leading solutions which will enable the safe integration of UAS platforms into the nation's airspace."
As the "most advanced drone testing corridor in the nation," the first-of-its-kind BVLOS UTM Corridor will give companies the opportunity to test both UAS platforms and UTM technologies in "real world settings, generating data that will inform and advance commercial use of drones."
​The UTM corridor is possible thanks in large part to New York State's commitment to the UAS industry, and Howard Zemsky, president, CEO & commissioner of Empire State Development, wants to make sure that the area is a leader in an industry that continues to grow.
"New York State's strategic, multi-million-dollar investment in the drone corridor through the CNY Rising initiative will ensure that the region is at the forefront of this burgeoning industry," Zemsky says.
"The innovative applications for UAS are limitless and will continue to have a significant impact on the Upstate economy for years to come."
View more information on the AUVSI.
Share your vision-related news by contacting James Carroll, Senior Web Editor, Vision Systems Design

To receive news like this in your inbox, click here.
Join our LinkedIn group | Like us on Facebook | Follow us on Twitter