This week's roundup from the Association for Unmanned Vehicle Systems International (AUVSI), which highlights some of the latest news and headlines in unmanned vehicles and robotics, covers the use of drones in: conservation and emergency response work, research on the impact of storms and sea-level rise, loading and unloading supplies from an aircraft, and property inspection applications.
New York agency touts progress using drones for conservation, emergency response work
The New York Department of Environmental Conservation (DEC) has deployed a fleet of 22 UAS across the state to conduct a variety of missions.
Thus far, the UAS have been used successfully to assist with tasks such as an oil spill response in Staten Island, a bat cave survey in Mineville, and the UAS were also deployed to help with the disaster response in Texas and Puerto Rico, following Hurricane Harvey and Hurricane Maria respectively.
"The use of drone technology will help us do our jobs better and faster while saving taxpayer dollars," says DEC Commissioner Basil Seggos, in a provided statement to Government Technology.
"We live in a changing world with technological advances being made at an exponential rate, and (unmanned aerial vehicles) give us a safe and efficient way to collect and analyze data, assess threats to the environment and quickly respond to emergencies."
For months, DEC's UAS pilots trained with the Northeast UAS Airspace Integration Research team, and with private UAS company SkyOp. Training was conducted at Griffiss International Airport in Rome, New York, which is one of six national test sites in the United States.
Virginia Governor Terry McAuliffe operates unmanned systems in three domains
During a technology demonstration at the Mid-Atlantic Regional Unmanned Aircraft Systems (MARUAS) Airfield at NASA's Wallops Flight Facility in coastal Virginia, Virginia Governor Terry McAuliffe operated unmanned systems in three domains—air, land, and sea.
The demonstration showcased how unmanned systems are being used by scientists to study the effects of major storms and sea-level rise on barrier-island dynamics, in an effort to form policies for coastal resilience.
"By combining unmanned systems across all three domains we are collecting data that will provide greater insight into our coastline, demonstrating the transformative nature of these technologies, and highlighting the capabilities of this uniquely situated facility at Wallops," Governor McAuliffe says.
"By leaning forward on emerging these emerging technologies, we can bring enormous benefits to our economy and our environment."
William & Mary's Virginia Institute of Marine Science (VIMS) and Randolph-Macon College worked with the University of Delaware to perform the preliminary coastal-resilience study.
The work conducted serves as a pilot study for a "larger, more comprehensive investigation" of the coastal zone of Assateague, Chincoteague, and Wallops islands, which was previously known as the Integrated Barrier Island Systems (IBIS) project.
"Technologies such as aerial drones, ground-penetrating radar, and autonomous underwater vehicles can help us unravel the past and present dynamics of our coastal zone so we can better predict its future response to storms and sea-level rise," says VIMS Dean and Director John Wells.
"That knowledge provides a valuable decision-making tool for increasing coastal resiliency in Virginia and around the nation and world."
The coastal study is being conducted under the auspices of the Mid-Atlantic Coastal Resilience Institute (MACRI). Founded back in 2014, MACRI is a "multi-state, multi-disciplinary partnership dedicated to integrated climate-change research."
The goal of MACRI is to use scaled science and research to inform public policy, in an effort to help local and regional leaders make coastal habitats more resilient.
The Assateague-Chincoteague-Wallops islands system was chosen for the first major MACRI study because it is one of the most dynamic systems on the East Coast of the United States.
Stratom XR-P demonstrates autonomous loading, unloading from MV-22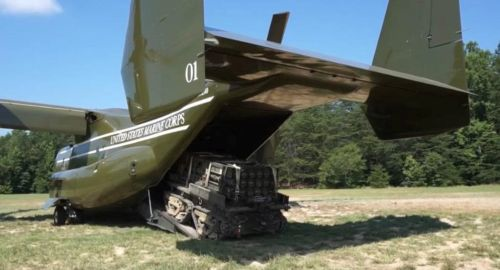 Colorado-based Stratom's new eXpeditionary Robotic-Platform, or XR-P, was recently demonstrated by the U.S. Marine Corps, which used it to autonomously load and unload supplies from an MV-22 Osprey vertical takeoff and landing aircraft.
Stratom has been working on the XR-P for about three years, in response to a Small Business Innovation Research proposal for resupply systems to work with the MV-22.
The main benefit of the XR-P is that it can autonomously drive in and out of the MV-22 while carrying more than 2,400 pounds of supplies, greatly reducing the manpower needed to unload supplies or ammunition from the aircraft. The XR-P can also tow up to 1,800 pounds with a full load.
Marine Corps officials "were amazed at how quickly it could be loaded and unloaded in and out of the aircraft," Stratom CEO Mark Gordon tells AUVSI.
By cutting resupply mission time, the XR-P also increases the amount of resupply sorties and cuts down on aircraft fuel consumption, according to the company.
The XR-P features tracks, which allows better weight distribution for cargo carrying but also allows the vehicle to traverse a variety of rough terrain. It also features various control modes, including teleoperation, waypoint navigation, obstacle avoidance and "follow-me mode," where it can follow an individual Marine.
The key to the system is the autonomous loading and unloading, Gordon says. "This capability has never been demonstrated before," he says.
The company plans to continue internal development of the XR-P, which could be used for a variety of purposes, from resupply to humanitarian relief to casualty evacuation.
Geomni launches UAS service for property inspections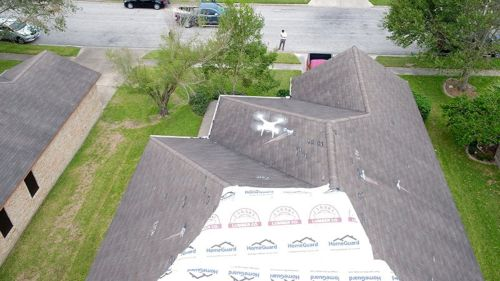 Geomni, which is a Verisk Analytics business that is centered around an "address- and location-based database of property-related analytics," has announced a new servicein which customers can dispatch a licensed, qualified UAS pilot to collect imagery and data about a structure.
Using the data collected during the UAS inspection, a Geomni Property data package is created. The package includes "ultrahigh-resolution imagery and 3D exterior roof and wall details that fully integrate with North America's most widely used repair estimating system."
The data collected during the inspection augments the data available from Geomni's expansive database of imagery collected across the country by the company's fleet of aircraft.
"The new UAV inspection service helps a wide range of property professionals fill some key needs, while still delivering the important dimensions and property detail found in all Geomni Property data packages," says Geomni's president, Jeffrey C. Taylor.
"The UAV inspection shows 'at the moment' conditions, such as damage on a very steep or unsafe roof. It can provide information for roofs with materials that are easily damaged when walked on. And our ultrahigh-resolution imagery can be used to determine the scope of damages—plus many more uses that help provide information to ensure the safety of those working at the site."
The Geomni Property data package offers three types of data collection for imagery and property information to customers, including "Geomni's comprehensive database of property-specific imagery and data collected continuously by its fleet of aircraft; Geomni's post-catastrophe flight imagery and data that shows damage to buildings caused by the catastrophic event; and imagery and data collected from a UAV using Geomni technology to collect, analyze, and process the data."
​If access to a property is immediately available for the UAS inspection, it is possible for the full package—which includes detailed data, images, and a report—to be delivered in less than 72 hours.
A wide variety of entities that work with property, such as architects, appraisers, and inspectors, can utilize the data collected through Geomni's new service.
View more information on the AUVSI.
Share your vision-related news by contacting James Carroll, Senior Web Editor, Vision Systems Design

To receive news like this in your inbox, click here.
Join our LinkedIn group | Like us on Facebook | Follow us on Twitter