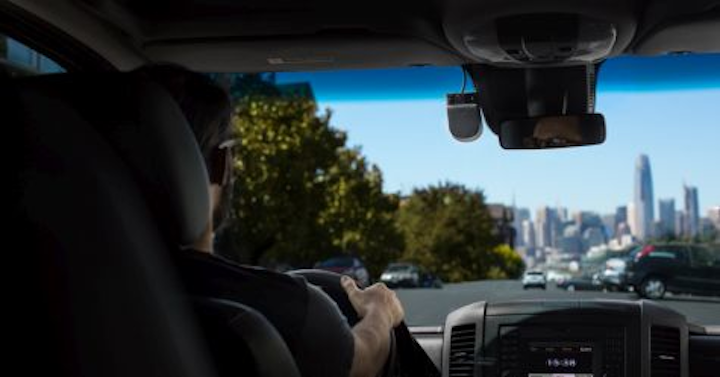 Nauto, a startup company that develops artificial intelligence-based autonomous vehicle technology—has received $159 million in Series B funding led by SoftBank and Greylock Partners.
Other participants include previous strategic investors BMW iVentures, General Motors Ventures, Toyota AI Ventures and the venture unit of global financial services and insurance provider Allianz Group, and Series A investors Playground Global and Draper Nexus, according to a press release.
Nauto's product is a flexible mounting solution that features a wide-angle exterior camera and wide-angle interior camera, GPS, LTE and wireless connections, LED and speakers for feedback, and night vision support. The platform utilizes some of the latest deep learning and computer vision algorithms and a smart cloud network informed by the accumulation of more than a million miles on urban streets and highways, according to the company.
Nauto is able to learn from other drivers, the road, and conditions around vehicles in the Nauto network, fleets equipped with Nauto can automatically capture and upload video of significant events and insights in real time to help fleet managers improve overall driver performance and enhance the safety and efficiency of an entire fleet., according to the company. The platform also uses the VERA (Vision Enhanced Risk Assessment) scoring system, which provides a risk rating for the frequency and severity of distraction events.
Funds raised in this round will be used to fuel the company's growth and the deployment of its retrofit safety and networking system into more vehicles around the globe, as well as support the expansion of the Nauto data platform in autonomous vehicle research and development across multiple automakers, noted the press release. The more Nauto units that are deployed, and the more that vehicles driving with Nauto accumulate even more miles, the more precise the network will become, suggests the company.
SoftBank and Greylock, along with our key strategic partners, are turbo-charging Nauto's ability to make roads safer today and to create an onramp to autonomy for the near future,"said Nauto founder and CEO Stefan Heck. "At a time when traffic fatalities are climbing and distracted driving causes more than half of all crashes, we're tackling that problem by putting Nauto's safety features into more commercial fleet vehicles — from trucks and vans to buses and passenger cars — to warn drivers and coach them on how to stay focused."
SoftBank Group Corp. Chairman and CEO Masayoshi Son, also commented: "While building an increasingly intelligent telematics business, Nauto is also generating a highly valuable dataset for autonomous driving, at massive scale," he said. "This data will help accelerate the development and adoption of safe, effective self-driving technology. We believe in Nauto's potential to revolutionize the automotive sector and look forward to enabling their success."
View more information on Nauto.
Share your vision-related news by contacting James Carroll, Senior Web Editor, Vision Systems Design

To receive news like this in your inbox, click here.