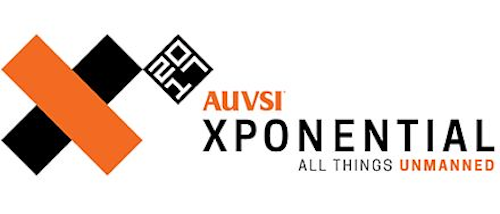 From May 8-11 in Dallas, more than 7,000 industry professionals from more than 55 countries will gather at AUVSI XPONENTIAL 2017, which is the largest tradeshow for the unmanned systems and roboticsindustry.
Attendees will have the opportunity to learn at more than 200 courses that are organized into three tracks covering all areas of the unmanned systems industry: Policy, technology, and business solutions.Session formats include debates, keynotes, poster presentations, panels, discussion groups, workshops, technical presentations, as well as the Solutions Theater, which offers a look at the latest product releases and partnership opportunities from exhibiting companies, and the Starting Point Theater, where sessions will provide insights and information designed to help attendees start a business or introduce unmanned systems into existing business operations.
XPONENTIAL's educational programs will touch on high growth markets, including aerospace, agriculture, automated vehicles, business solutions, cinematography, construction and real estate, energy, government defense, ground, mapping and surveying, maritime, oil and gas, policy, public safety, retail/logistics/tracking, transportation, technology, and wireless.
In addition to the sessions offered, XPONENTIAL's exhibit hall will showcase more than 650 companies from around the world, representing more than 20 industries. The floor will include Technology Zones (Air Pavilion, Business Services Zone, Software Pavilion, and the Startup Pavilion), as well as International and State pavilions. See below for our coverage of some of the technologies that can be seen on the floor:
In order for any unmanned system or robot to be considered "autonomous," the platform requires some form of a camera or vision system. The importance of vision is highlighted by many of the products listed above, all of which either incorporate or enable vision, or are cameras or sensors themselves. Brian Wynne, president and CEO of the Association for Unmanned Vehicle Systems International, commented on the intersection of vision and unmanned systems.
"Machine vision and image processing are important to the advancement of the unmanned systems ecosystem, and we are pleased to welcome members of the industry to AUVSI XPONENTIAL. We look forward to being a resource to the imaging community as unmanned systems become a larger part of their business."
Additional items of note regarding XPONENTIAL include:
The Startup Showdown: Sixteen finalists will compete in a knockout round, with three finalists emerging. Each of the three will have six minutes to pitch their companies to the judges, followed by six minutes of questions. By the end of the session, a Startup Showdown Grand Prize Winner will emerge with $15,000 and one-on-one consulting time with the judges.
Women and Diversity in Robotics:This discussion forum and networking time provides an opportunity for attendees to join leaders in the community who are shaping the future of the industry. During the event, people will meet in small groups for 15-minute moderated discussions on key areas of interest to the unmanned systems and robotics communities. After each event, the groups will switch to meet and engage with new leaders on a new topic.
Keynote speeches: Numerouskeynote speeches will be given from speakers such as Brian Wynne, Brian Krzanich (Intel CEO), Michael Huerta (FAA administrator), Dirk Hoke (Airbus Defence and Space CEO), Brian Chappel (Sector Vice President and General Manager, Autonomous Systems, Northrop Grumman), Gov. Terry McAuliffe of Virginia, Brad Tomer, Chief Operating Officer, Avitas Systems, and more.
View more information on XPONENTIAL.
Share your vision-related news by contacting James Carroll, Senior Web Editor, Vision Systems Design

To receive news like this in your inbox, click here.
Join our LinkedIn group | Like us on Facebook | Follow us on Twitter
Learn more: search the Vision Systems Design Buyer's Guide for companies, new products, press releases, and videos