In this week's article from the Association for Unmanned Vehicle Systems International (AUVSI), which highlights some of the latest news and headlines in unmanned vehicles and robotics, we take a look at DARPA's selection of Rockwell Collins to help protect against cyberattacks for unmanned systems operated on land, in the air, and at sea, as well as DJI's new first-person view drone goggles, and unmanned aerial system (UAS) testing for both the Department of Homeland Security and the Navy.
DARPA selects Rockwell Collins to provide technology to help protect platforms against cyberattacks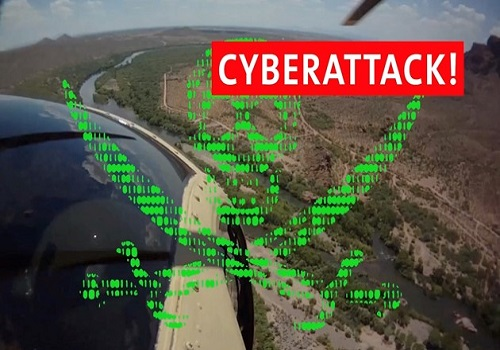 Rockwell Collins has been selected by the Defense Advanced Research Projects Agency (DARPA)to help protect platforms against cyberattacks, using mathematics-based development methods. The techniques are responsible for securing platforms operated on land, in the air and at sea.
The techniques were developed by Rockwell Collins and its partners in DARPA's High Assurance Cyber Military Systems (HACMS) program. The Rockwell Collins HACMS team includes Galois, Data 61, HRL, and the University of Minnesota.
"In today's highly connected world, land, air and sea platforms can fall victim to cyberattack," says vice president of the Advanced Technology Center for Rockwell Collins, John Borghese, through press release.
"HACMS provides peace of mind and high assurance that these systems are resistant to a cyberattack."
To achieve a high level of cyber-resilience, the Rockwell Collins HACMS team developed technologies such as a secure microkernel, an automatic generation of the application code, and architectural modeling and analysis.
To make sure that there is an absence of vulnerabilities that can be taken advantage of during a cyberattack, each of these technologies uses mathematical reasoning, which improves the safety and security of important electronic systems in platforms for the military, as well as those used commercially.
DJI's to begin shipping FPV goggles in May
DJI has released details about its new FPV headset, named DJI Goggles, for its UAS. Featuring two screens inside of it, which each have 1280 x 1440 resolution, Goggles is compatible with DJI's new OcuSync wireless technology, giving it the ability to stream 720p over long distances, and 1080p when the UAS is flying closer to the pilot.
Goggles' big selling point is a feature called Head Tracking, which allows a pilot to control the movements of the UAS while it is flying forward, by simply moving their head in a certain direction. There is also a mode that allows a pilot to control the gimbal in 360-degrees of movement using their head, and continue using the controller only for flight control.
Another unique feature is the ability to initiate a UAS' intelligent flight features, such as ActiveTrack and Tripod Mode, by using a touchpad on the side of Goggles and a menu that shows up on the screen.
DJI will begin shipping its DJI Goggles on May 20.
Mississippi State University to lead R&D project on UAS for Department of Homeland Security
The Department of Homeland Security (DHS) Science and Technology Directorate (S&T) has selected the state of Mississippias the new base of operations for small unmanned aircraft systems (sUAS), and Mississippi State University (MSU) has been selected to lead a research and development project for the DHS.
With a goal of offering support for the operations and training of homeland security, the new facility, which will be known as the DHS S&T Small Unmanned Aircraft Systems Demonstration Range Facility, will be the home for UAS flight and exercise support facilities, which will provide support for the operational evaluation of UAS in different scenarios and applications.
The facility is expected to utilize approximately 2,000 square miles of restricted airspace at altitudes up to 60,000 feet.
"We anticipate the new DHS demonstration range facility will be an additional asset in the State of Mississippi's overall economic development focus on advanced technology and highly-skilled jobs," says MSU's vice president for research and economic development David Shaw through press release.
The initiative will be overseen by a partnership led by Mississippi State. The partnership will also include NASA's Stennis Space Center, the Mississippi National Guard's Camp Shelby Joint Forces Training Center, the Mississippi Air National Guard's Gulfport Combat Readiness Training Center, the Jackson County Port Authority and the Hancock County Port and Harbor Commission.
The partnership's members will provide facilities, expertise and personnel to give various DHS agencies such as the U.S. Coast Guard, the Secret Service, and the Federal Emergency Management Agency, the ability to conduct specialized evaluation and training.
The offerings from the partners will also allow the DHS S&T to conduct various forms of training and exercises for simulated scenarios such as disaster relief, highway and rail accidents, and containment of hazardous materials spills.
Navy plans to begin developmental testing of unmanned influence sweeping system with inclusion of sonar systems
In the next few months, the Unmanned Influence Sweeping System (UISS) will begin developmental testing, with the inclusion of AQS-20 and AQS-24 sonar systems, which are minehunting technologies.
According to deputy program manager of Unmanned Maritime Systems, Howard Berkof, the systems not only provide electro-optical minesweeping capabilities, but also faster and higher-resolution images for minehunting.
The UISS is made up of a USV and a minesweeping payload that is built for "influence sweeping of magnetic, acoustic and magnetic/acoustic combination of mine types." A modified Mk-104 acoustic device is towed thanks to the inclusion of a specialized magnetic cable included in the UISS payload.
This allows the UISS to replicate a ship's sounds and magnetic signatures, which tricks mines with influence sensors into harmlessly detonating, thanks to the explosion being triggered when they sense a ship.
"The concept is to keep the ship and its sailors out of the mine field and enable unmanned systems to find, identify, and clear mines, so that we can continue our operations and do whatever we need to do in that water way," Berkof says via Defense Systems.
Colleen E. O'Rourke, an official at Naval Sea Systems Command (NAVSEA), says that "the inherent modularity of the [UISS] USV allows swapping of payloads to change from a minesweeping mission to a minehunting mission."
O'Rourke continues by saying, "minehunting and minesweeping are complementary techniques. Minehunting employs a sonar to detect, classify and identify mines. The sonar "sees" the mine and localizes it for either neutralization by another MCM system or for avoidance. Influence minesweeping employs systems designed to trigger mine detonation."
Featuring electro-optical sensors, the AQS-20 sonar is capable of collecting the exact locational data on mines that are undersea. Through research conducted by BAE Systems, they have determined that long-range naval thermal imaging and infrared laser systems can be used thanks to electro-optic capabilities. This likely allows for an increase in accuracy and image quality of mine detection data.
The current design for the AQS-24 is designed for the MHU Class 2 (small) USV. It has been described as the "only high-speed surface-towed minehunting system that is operationally proven," by Northrop Grumman.
According to the Institute of Electrical and Electronics Engineers, the AQS-24 uses high-speed synthetic aperture radar, "which provides a higher resolution by emitting multiple rapid pings at varied frequencies whose data can then be combined to achieve the effect of having a longer sonar array, or aperture."
View more information on the AUVSI.
Share your vision-related news by contacting James Carroll, Senior Web Editor, Vision Systems Design

To receive news like this in your inbox, click here.
Join our LinkedIn group | Like us on Facebook | Follow us on Twitter
Learn more: search the Vision Systems Design Buyer's Guide for companies, new products, press releases, and videos