In this week's article from the Association for Unmanned Vehicle Systems International (AUVSI), which highlights some of the latest news and headlines in unmanned vehicles and robotics, we take a look at a driverless vehicle trial in England, a test run of food delivery robots in San Francisco, and a UAS that inspects power lines.
Britain set for driverless vehicle trial run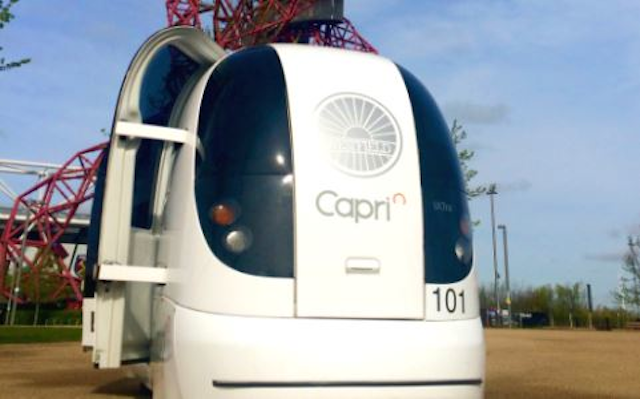 Thanks to a £4.2 million Government grant, Britain will launch its first driverless vehicle trial on private land in Bristol. The trial, which will take place as a part of the development of the Filton Airfield, will "test the reliability and operation of 'connected driverless vehicles' to move people around a specific area."
CAPRI, which is an automated vehicle consortium, is conducting the trial. Some of the members of the consortium include the South Gloucestershire Council, UWE and the University of Bristol.
"Our CAPRI consortium brings together academic and business partners, and will help strengthen the UK's position as a world-leader in the development of CAVs," says Lee Street, the project's head of technology services, through the Bristol Post.
If everything goes well with the trial, these vehicles, also referred to as pods, will be used to transport anyone that is visiting the Queen Elizabeth Olympic Park in east London, and the vehicles could possibly be licensed for use in other places.
The ultimate goal is for the vehicles to be reliable enough to use to transport people around a variety of locations, including airports, hospitals and shopping and tourist centers.
After the trial at Filton, a final public trial will see the service interact with traffic control systems as a part of a test on a network of roads around the Olympic Park.
Robot manufacturer Marble teams up with Yelp Eat24 for food deliver robots in San Francisco
A San Francisco-based startup named Marble, in partnership with Yelp Eat24, has begun testing its delivery robots in select San Francisco neighborhoods.The robots are used to deliver food, and they are accompanied by a Marble employee to make sure that everything goes smoothly.
After placing an order for delivery using the Yelp Eat24 website or app, customers are asked whether or not they are okay with a delivery robot delivering their food.
If they say yes, a pin code is sent to their phone, and they use that code to unlock the robot's cargo bay when it arrives. Once it makes its delivery, the robot returns to Marble's HQ or heads to another restaurant.
Through the partnership, Marble is paid a per-delivery fee, along with any tips that a customer chooses to give.
For now, the robots will be used just to deliver food, but there are endless possibilities down the line if the technology proves effective.
"We're starting with meals, but think our robots will be useful for everything from groceries, to pharmacy and parcel delivery in the long run," says Matt Delaney, CEO and cofounder of Marble, via TechCrunch.
Equipped with sensors, cameras, on-board lidar and Nvidia's Jetson TX1 AI supercomputers, the robots manage to avoid hitting humans, animals and other obstacles while traveling by perceiving the environment around them.
Using high-resolution, 3-D maps of sidewalks, buildings and other things in a neighborhood where Marble is operating, the robots are capable of both day and nighttime operation.
Satellite-connected Puma UAS inspects Virginia power lines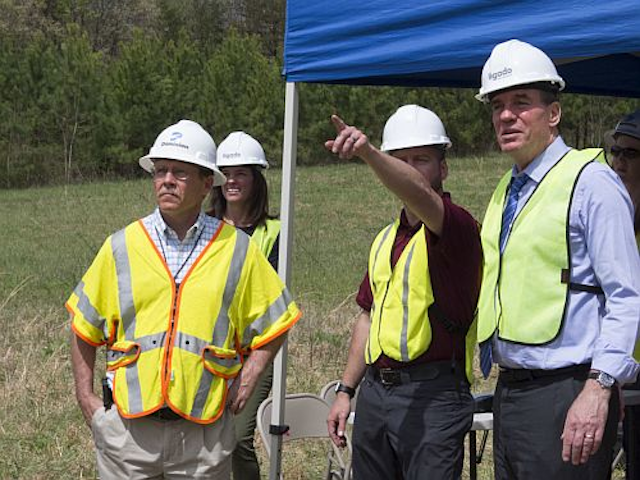 A team from AeroVironment, Dominion Virginia Power, the Mid-Atlantic Aviation Partnership and communications company Ligado Networks conducted two days of demonstrations of beyond-line-of-sight powerline inspections using a satellite network, wrapping up with a public demonstration that included a visit by Virginia Sen. Mark Warner on Wednesday, April 12.
The demonstration, conducted in Virginia's rural Buckingham County, used an AeroVironment Puma connected to Ligado's SkyTerra 1 satellite system. The Puma flew over the lines — and then out of sight — before returning to land in a field next to the lines.
"I've seen demonstrations dozens of times," Warner said. "In the last couple of years I've seen this evolution. And kind of the holy grail has always been beyond line of sight, and I saw my first beyond line of sight today."
Warner briefly took control of the system, saying later that it took him, "an old guy," only 30 seconds to figure it out with some coaching.
"You get anybody that's a Millenial, they'll pick it up immediately," he said.
The team actually tested three network configurations, according to Ligado Chief Technology Officer Tamara Casey. One was a souped-up Wi-Fi signal, which they pushed out to 10 kilometers. The second was a 5 mhz licensed spectrum, which Ligado already uses, and which was able to extend to 23 kilometers.
The third was the satellite connection, based on the SkyTerra 1, which uses a 22-meter reflector-based antenna, the largest in service on a commercial satellite.
Casey said Ligado foresees a combination of networks for commercial UAS use, including satellite communication for command and control, and terrestrial networks for more data-heavy data needs. Basically, the satellite could fly the aircraft and more common ground stations could handle the payloads.
Dominion Virginia Power already uses drones to inspect its powerlines, as an augmentation to manned helicopter inspections. Steve Eisenrauch, who manages transmission, forestry and line services for the utility, says contractor Hazon Solutions, based in Virginia Beach, handles the drone inspections.
Eisenrauch says the main benefit from using small UAS is the ability to get multiple angles of view of the lines, something that's hard to do with manned helicopters. They aren't saving money or time as of yet, but that's partly due to the requirement to keep them in sight at all times.
"That's where beyond line of sight is going to be so important," he said.