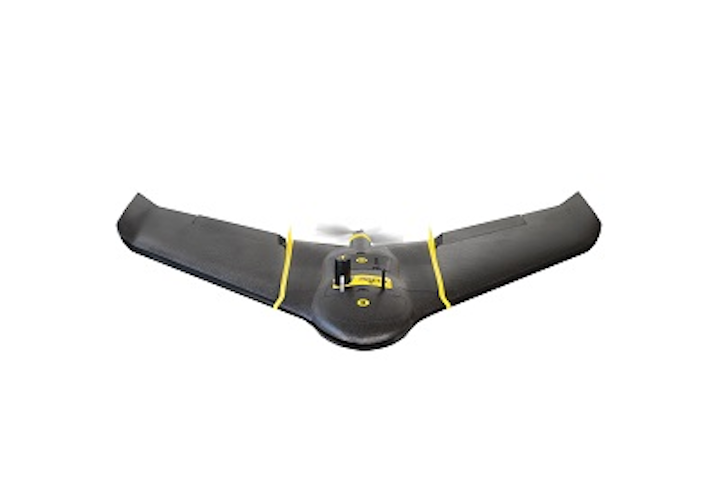 Designed for photogrammetric mapping, the eBee Plus drone from senseFly is a lightweight (2.4 lb), hand-launched drone that can fly for up to 59 minutes in one deployment. The drone comes equipped with the senseFly S.O.D.A. (Sensor optimized for drone applications), which the company says is the first camera to be designed for professional drone photogrammetry. The camera features a 20 MPixel RGB global shutter sensor with a 2.33 µm pixel size that achieves ground resolution (at 400 ft. above ground level) of 1.1 in/pixel. Additionally, the eBee Plus comes with eMotion 3 drone flight and data management software, which includes mission block flight planning, efficient multi-flight missions, a full 3D control environment, multiple payload support, cloud connectivity, among other features.
XPONENTIAL 2017 booth number: 641
To Learn More:
Contact:senseFly
Headquarters: Cheseaux-Lausanne, Switzerland
Product: eBee Plus drone
Key Features: Lightweight design (2.4 lbs), 59 minute flight time, senseFly S.O.D.A. imaging payload, eMotion 3 drone management software.

What senseFlysays:
View more information on the eBee Plus.

View More Products| Locate a vendor or system integrator | Receive e-mail updates
Share new products that you think are particularly interesting or helpful by contacting James Carroll, Senior Web Editor, Vision Systems Design.
Join our LinkedIn group | Like us on Facebook | Follow us on Twitter
Learn more: search the Vision Systems Design Buyer's Guide for companies, new products, press releases, and videos