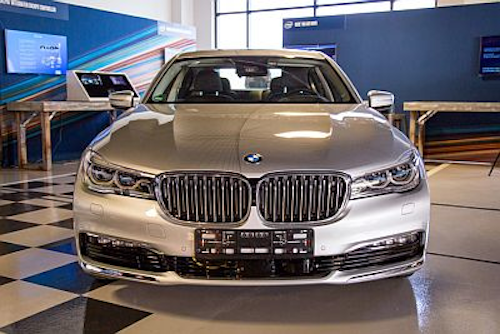 Last year, the BMW Group, Intel, and Mobileye announced a partnership to bring autonomous vehicles into series production by 2021. On May 16, the collaborative group announced that it will add Delphi as a development partner and system integrator for their autonomous driving platform.
The group of companies represent leaders in automotive, technology, computer vision, and machine learning, and share the opinion that automated driving technologies will make travel safer and easier. The four partners, according to Intel, intend to jointly deploy a cooperation model to deliver and scale the developed solutions to the broader OEM automotive industry, and potentially other industries.
"The partnership between BMW, Intel and Mobileye continues to break new ground in the auto industry," said Intel CEO Brian Krzanich. "In less than one year the joint teams have made substantial progress to deliver a scalable platform for autonomous driving and are on path to deliver 40 pilot cars in second half of this year. Adding Delphi as an integration partner will help to accelerate the introduction of autonomous cars on the streets from multiple carmakers and offer differentiation to customers."
Delphi has already provided a prototype computer platform to the BMW Group, and is working together with Intel and Mobileye—which was acquired by Intel earlier this year—to bring solutions for automated driving into series production by 2021. The team has since developed a scalable architecture that can be adopted by other automotive developers and carmakers to pursue state-of-the-art designs and create differentiated brands, according to Intel.
A key role of Delphi will be the integration of the solution delivered by the other three companies into OEM vehicle architectures, while also potentially providing required hardware components such as sensors, as well as specific customization efforts and applications for differentiation.
"This is a great opportunity for Delphi to use its technical depth and experience with automated driving and electrical architecture to help the cooperation develop and deploy at scale. Our close working relationship with all three partners serves as a solid foundation for a success," said Kevin Clark, president and CEO of Delphi.
The partnership between Delphi and the other companies is non-exclusive, as the collaborative team is in the process of onboarding new integration and development partners to support future products.
"From the very beginning we designed our cooperation on a non-exclusive platform for this technology of the future. With the onboarding of Delphi we significantly strengthen our development of the automated driving and do a future step in spreading this technology across the industry," stated Klaus Fröhlich, Member of the Board of Management of BMW AG for Development.
In January of this year, BMW, Intel, and Mobileye announced that a fleet of approximately 40 autonomous BMW vehicles will be on the roads by the second half of 2017, which signifies the progress already made by the collaborative team.
View the Intel autonomous driving press kit.
Caption: BMW displays one of the first of approximately 40 highly automated vehicles that were announced by BMW, Intel and Mobileye during a one-day autonomous driving workshop on Wednesday, May 3, 2017, at Intel's Silicon Valley Center for Autonomous Driving in San Jose, California. (Credit: Intel Corporation)
Share your vision-related news by contacting James Carroll, Senior Web Editor, Vision Systems Design

To receive news like this in your inbox, click here.
Join our LinkedIn group | Like us on Facebook | Follow us on Twitter
Learn more: search the Vision Systems Design Buyer's Guide for companies, new products, press releases, and videos