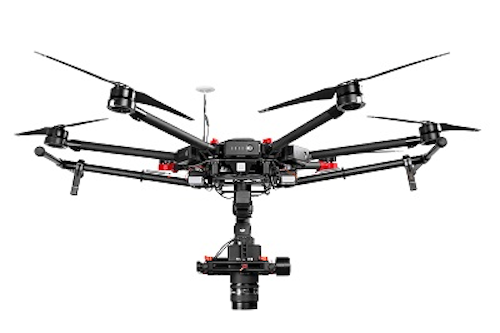 DJI's M600 and M600 Pro drones are now integrated with 100 MPixel aerial cameras from Phase One Industrial to support aerial imaging applications ranging from photogrammetry to critical infrastructure monitoring projects.
Phase One's iXU and iXU-RS aerial cameras, which are available in both 100 MPixel and 50 MPixel models, feature CMOS image sensors, dynamic range of greater than 84 dB, and support the workflows of image post processing software such as Pix4D, Agisoft, and SimActive.
"Using the Phase One Industrial IXU camera with the new Integration package for our DJI M600 drone, the results were extraordinary,"said UAV Flight Systems Manager Tobias Wentzler, Lufthansa Aerial Services. "We achieved millimeter per pixel accuracy, allowing us to inspect the required objects in exquisite detail and lift our mission results and accuracy to a new, high-end level, identifying the subtlest cracks or imperfections that were not visible to conventional inspection methods."
DJI M600 and M600 Pro drone systems integrated with the Phase One cameras support mission planning applications (such as DJI Ground Station pro), geo-tagging of all files' location and gimbal position, dual remote controllers, as well as smart triggering of the camera by waypoints, fixed distance, and fixed time.
Additionally, the integration provides a new iX Capture Mobile application for iOS, which provides for total remote control of the camera. Phase One's iX Capture Mobile was designed using the DJI open platform development tools, and offers a number of operating modes, including video streaming; auto or manual capture to determine values of the ISO, shutter speed and aperture; auto capture mode to enable image capturing by waypoints, fix distance or by time intervals; and camera control via DJI Lightbridge 2 dials.
View more information on the Phase One cameras.
View more information on the M600andM600 Pro drones.
Share your vision-related news by contacting James Carroll, Senior Web Editor, Vision Systems Design

To receive news like this in your inbox, click here.
Join our LinkedIn group | Like us on Facebook | Follow us on Twitter
Learn more: search the Vision Systems Design Buyer's Guide for companies, new products, press releases, and videos