This week's article from the Association for Unmanned Vehicle Systems International (AUVSI), which highlights some of the latest news and headlines in unmanned vehicles and robotics, takes a look at the future of unmanned systems, a wide-area sensor that was recently tested on an unmanned aerial system (UAS), and a system to prevent UAS from crashing into one another while flying in swarms.
XPONENTIAL speakers look to the future in final keynote session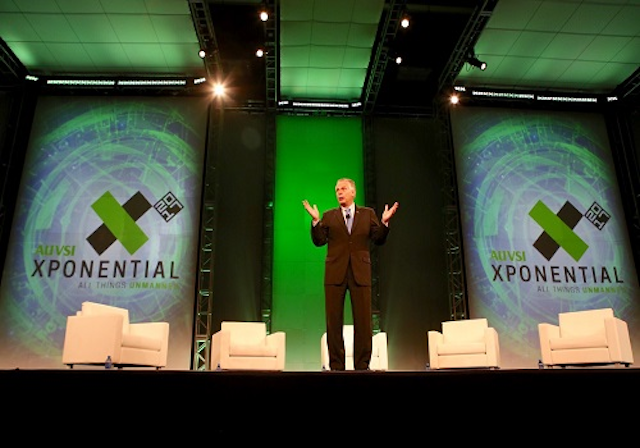 The final keynote presentation of Xponential 2017 — "Unmanned Systems Shaping the Enterprise" — focused on the future, starting with a passing of the torch for AUVSI.
John Burke, who has served as AUVSI board chairman since 2015, welcomed his successor, Dallas Brooks, who is with the Mississippi State University/ASSURE UAS Center of Excellence.
"I've never been more optimistic about where we're going — both as an organization and as an industry," Brooks said, but emphasized the work of education and advocacy for progress-friendly laws and regulations that remains. "Our revolutionary technologies are colliding with a technical and regulatory system designed to accept only evolutionary improvement."
Next to the microphone was an unabashed fan of speeding the pace of change: Virginia Gov. Terry McAuliffe, whose administration recently added "Virginia is for Unmanned Systems Lovers" to the list of state slogans.
Calling Xponential "the greatest conference ever held," McAuliffe emphasized that unmanned systems offer tremendous opportunities for diversifying Virginia's government-dependent economy, and that he is ensuring Virginia "leans in" and offers tremendous opportunity for unmanned systems.
Among other examples of his enthusiasm, McAuliffe cited 70 miles of sensor-equipped roads being built to facilitate advances with autonomous vehicles. He also touted a new law to prevent new regulation from unduly encumbering the industry.
"There are no local regulations at all. We do not have state regulations. The industry is too new, and I don't want us writing laws that could stifle innovation."
Redkite wide-area sensor completes successful advanced flight testing aboard integrator UAS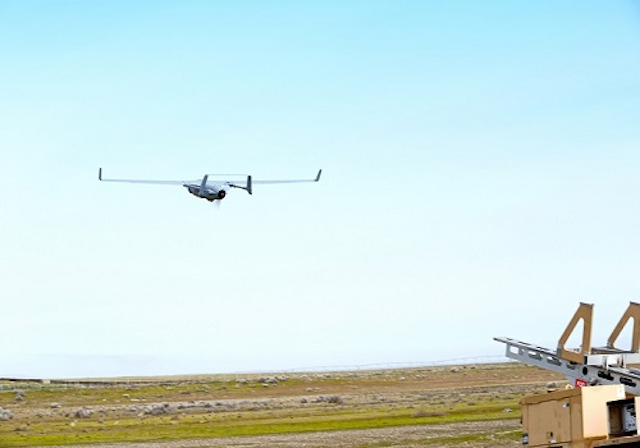 Logos Technologies has announced that it has successfully conducted advanced flight testing of its Redkite wide-area sensor aboard the Insitu Integrator UAS.
Testing confirmed that the Redkite was capable of capturing stabilized, wide-area motion imagery (WAMI), and could successfully stream it to multiple handheld devices on the ground from the payload bay of the UAS.
This latest demonstration, which was the second successful airborne test with the Integrator, took place in Boardman, Oregon.
"Back in February, we worked with Insitu to demonstrate that Redkite could handle the launch and in-flight characteristics of Integrator," says Logos Technologies' President John Marion.
"Now, we confirmed that Redkite captures, renders and stabilizes imagery in real time with its compact, on-board processor, streaming it to the users."
Capable of storing up to eight hours of geo-tagged mission data for forensic analysis, the Redkite is compact and lightweight, and comes in two configurations, one being a platform-agnostic pod for manned and unmanned aircraft, and the other being an integrated payload module.
Both versions image over 12 square kilometers at once, and while doing so, can detect, track, and record all significant movers in real time within the scene.
Combined with the Integrator UAS, the WAMI system provides the tactical commander with new intelligence and surveillance resources, as it delivers real-time imagery straight to their mobile device.
"Integrator with Redkite delivers WAMI surveillance on a scale previously available only on Group 4 or 5 platforms," says Suzanne McNamara, VP of Business Development and Strategy for Insitu.
The next goal to accomplish with the Redkite on the Integrator will be to further reduce the system weight, which will allow for full endurance flights.
Virtual bumper areas and "top hats" could keep UAS from crashing into each other when fying in swarms
Researchers at the Georgia Institute of Technology believe that they have found methods to keep UAS from crashing into each other, and flying under each other, while they are flying in swarms.
To keep UAS from touching and crashing into each other, and flying under each other, researchers have determined that creating a virtual bumper area around each UAS would solve these issues, by making sure that the UAS don't accidentally touch.
Researchers have also determined that a little "top hat" of space above the UAS will keep them from going underneath another UAS and getting caught up in its airflow.
By flying UAS atop one another, Ph.D. student Li Wang determined that the top hat must be "as tall as five times the diameter from one rotor to another." A vertical space of 0.6-meters makes sure that the UAS won't undercut each other.
For extra protection, the UAS can quickly maneuver out of the way when they detect another UAS next to or above them by using a set of algorithms.
View more information on the AUVSI.
Share your vision-related news by contacting James Carroll, Senior Web Editor, Vision Systems Design

To receive news like this in your inbox, click here.
Join our LinkedIn group | Like us on Facebook | Follow us on Twitter
Learn more: search the Vision Systems Design Buyer's Guide for companies, new products, press releases, and videos