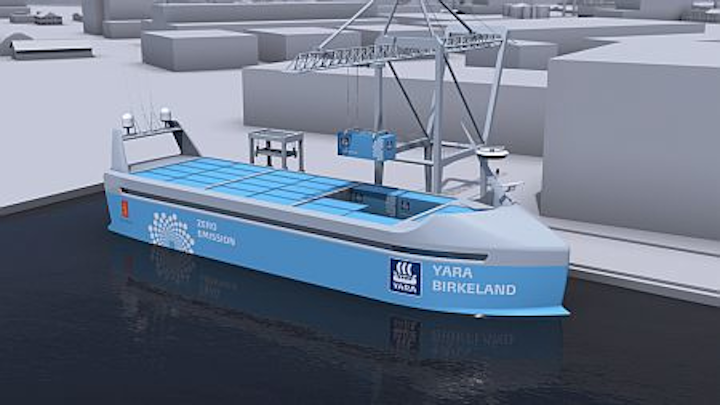 Norwegian chemical company Yara has partnered with maritime technology company Kongsberg to build the world's first fully-electricautonomouscontainer ship, which is currently slated to begin operation in the latter half of 2018.
The "Yara Birkeland" (named after Kristian Birkeland, founder of Yara) autonomous ship will transport products from Yara's Porsgunn production plant to Brevik and Larvik in Norway, and will reduce NOx and CO2 emissions and improve road safety by removing up to 40,000 truck journeys in populated urban areas, according to the company. At first, the ship will operate as a manned vessel, but will move to remote operation in 2019, with the expectation that it can be fully autonomous by 2020.
"As a leading global fertilizer company with a mission to feed the world and protect the planet, investing in this zero-emission vessel to transport our crop nutrition solutions fits our strategy well. We are proud to work with KONGSBERG to realize the world's first autonomous, all-electric vessel to enter commercial operation," said Svein Tore Holsether, President and CEO of YARA.
He continued, "Every day, more than 100 diesel truck journeys are needed to transport products from YARA's Porsgrunn plant to ports in Brevik and Larvik where we ship products to customers around the world. With this new autonomous battery-driven container vessel we move transport from road to sea and thereby reduce noise and dust emissions, improve the safety of local roads, and reduce NOx and CO2 emissions."
Kongsberg will be responsible for integrating the ship's sensors and integration required for remote and autonomous operations, in addition to the electric drive, battery and propulsion control systems. Current plans for the Yara Birkeland's vision system involve the integration of cameras, radar, automatic identification system, LIDAR, and infrared cameras. Kongsberg's integrated control and monitoring systems, per the company, are already capable of providing technology for remote and unmanned operations.
"Developing systems for autonomous operations is a major opening and natural step for KONGSBERG, considering our decades of expertise in the development and integration of advanced sensors, control and communication systems for all areas of ship operations. YARA Birkeland will set the benchmark for the application of innovative maritime technology for more efficient and environmentally friendly shipping," said says Geir Håøy, President and CEO of Kongsberg.
View a press release on the Yara Birkeland.
Share your vision-related news by contacting James Carroll, Senior Web Editor, Vision Systems Design

To receive news like this in your inbox, click here.
Join our LinkedIn group | Like us on Facebook | Follow us on Twitter
Learn more: search the Vision Systems Design Buyer's Guide for companies, new products, press releases, and videos